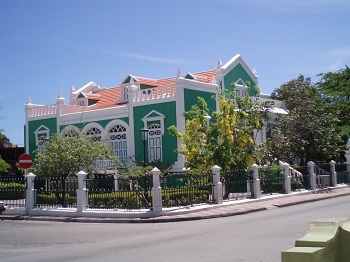 The Monuments bureau shares some essential facts about the Town Hall known as the Eloy Arends building. The aim is to educate the community about the mansion's construction, history, and preservation.
The Doctor Eloy Arends building is located at the Wilhelminastraat 8 and was the home of the Arends family. It was the first building that the Monuments bureau, and the Government of Aruba, restored in 1997. Mr. Medardo 'Dada' Picus, was the architect of this Aruban-Caribbean building. The building sits on a 1.545 m² plot of land and is a typical Aruban mansion. It is an open home with false walls that allow the connection of the rooms with each other.
The entrance has large doors and columns supporting the floor of the upper balcony. In between the columns, there are decoration details made out of wood. The elaborately detailed embellishment is known as gingerbread trim and the triangular decorative wall surface over the columns is called the tympanum.
The top of the doors and windows have stained glass.
The building is not built on ground level but at approximately 1.5 meters above ground level. This mansion elevation created storage below the wooden floors and allowed proper ventilation.
The building has lots of windows which allow plenty of light inside, as well as good ventilation.
It has dormer windows and crowns on the outside part of the roof and different decorations on the edges of the walls and facade.
This is a stunning building full of beautiful details that resemble its beauty and transform into a history of love. Aruban tradition for "well-to-do" families dictates that before a man gets married, he has to present his future wife with a newly built and fully furnished house. It was certainly the case with this building.
Due to the engagement between Eloy Arends and Monica Lacle (daughter of Adriaan Lacle, who is mainly known for the boulevard that bears his name), the construction of the mansion began in 1922 and was completed in 1925 when the couple got married.
The Office of the Civil Registry is located in the adjacent building, whereas the mansion hall is used exclusively for civil wedding ceremonies.
The Monuments bureau will continue to contribute and educate the community about the history of our monuments with significant value for Aruba.