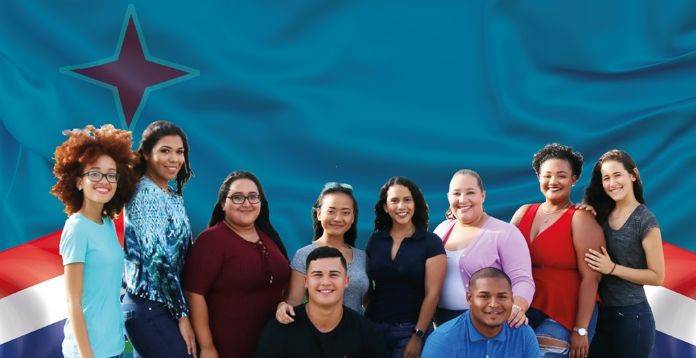 Deborah van den Berg – Alexander, Coordinator at the Center for Lifelong Learning (CLL), is a passionate professional whose purpose is to contribute to a better life for everyone. "We are not just here to stay at this level but we are meant to grow, to reflect and to challenge ourselves. In reference to the George Floyd event you can ask yourself: do I just want to be a bystander in this world or to be of impact in one's life? Education is not about having a degree only but about knowing better and doing what provides you a better future." The University of Aruba's CLL offers a broad program of lectures, workshops, courses, seminars, conferences and more to enrich your life.
Van den Berg – Alexander: "CLL plays a very important role in de development of Aruba as a nation and if you ask why? If you look at the statistics a merely 4 % to 5 % has HBO or higher and what CLL is trying to do is elevate education as it is the cornerstone of growth in each community." CLL believes in inclusiveness and therefore collaborates with local and international partners. "Next to that we feel it is our responsibility that the Aruban community in general is able to enrich their life with our offerings." When the university was established 30 years ago the focus was on the professional development of all lawyers. But then it was quite really just focused on the law facultyAs the number of faculties grew, so did the need to diversify what CLL offered. " started to look at Europe and the U.S. how long-life learning was taking form over there. In the US it compasses everything, while in the Netherlands the focus has been quite academic but has recently been seeing a shift.
Post COVID
CLL's ambition before COVID-19 was already to go online so the crisis only forced this process to go faster. "Since mid-May CLL only offers webinars, we have no choice but to do things different in accordance with the new normal. Where before we used to invite people to come to the university's aula to sit with you and interact, now you have to make sure that within 30 minutes they walk away feeling enriched and having an increase in knowledge and understanding. It is a different way," Van den Berg-Alexander says. CLL will maintain the online learning until further notice. "The first Friday in September we open the new academic year and spaces are limited because of the social distancing rules so we choose to continue online." The challenge with online is to offer interesting topics at the right hour and to get people engaged, but so far CLL manages this quite well. "We did the Aruba post-corona series about a better normal where we looked at the Doughnut economics. Another series was about creating Entrepreneurial and Mindset. You're playing to really find what works. We try to connect to what is relevant to the community. For example Black Lives Matter is a sensitive topic which we would like to discuss within the community but after having thoroughly looked at the manner in which this is done. But still it is important to discuss." Most of CLL's program is offered for free, there are some paid activities however. "With regards to the participants I can say that it is a broad public, and now that it's online we see people from abroad joining in. If readers are interested in connecting; we are open to that," Van den Berg-Alexander concludes.
The program
August
''August – language: Dutch.
September
''andSeptember* – language: Dutch
'' andSeptember* – language: Dutch.
''September22, 24 and 29 September*. Language: English.
*Take note that there is an additional pre-training session for max 1 hour, one day prior to start date to get participants familiar with the electronical learning environment.
For more information: https://www.ua.aw/life-long-learning
To join the mailing list please register at: cll@ua.aw