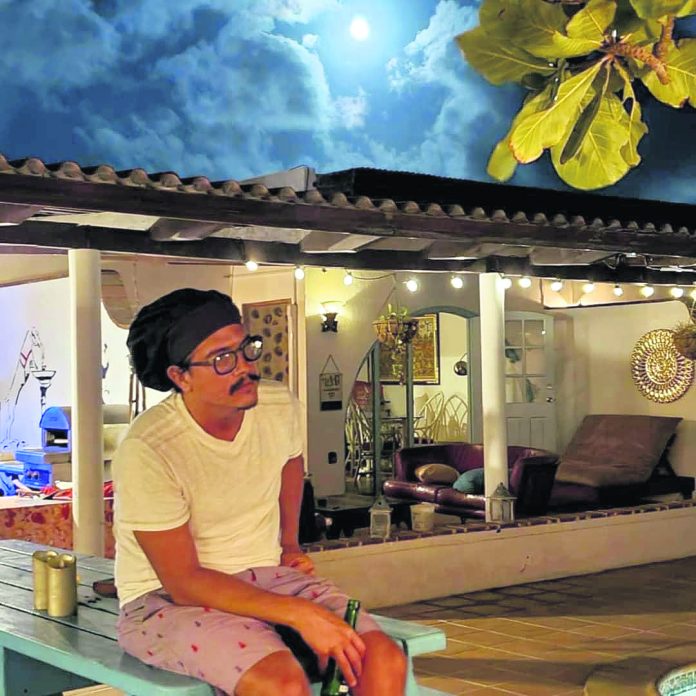 Germille Geerman (34) is a storyteller. His inspiration is Juan Chikito, who ever since he was a child would tell him stories of his great-grandfather, Lucas Wilfrido Werleman, known by the family as Juan Grandi, a renowned figure in Aruba.
Germille grew up with his maternal and paternal grandparents, but it was Juan Chikito who painted the image of a family with 13 kids in Angochi, who lived by planting corn in fields that nowadays are the sports fields of Sportboys and Caravel. Now, Germille is a local entrepreneur who uses his artistic and communications talents to share part of his own history with locals and tourists, and at the same time supports initiatives to promote local agriculture. Recently, Geerman organized a meeting at Oasis Farm to celebrate farmer Ruthsel Emer and to give him support to continue pushing with a project that according to Germille, is the direction in which Aruba needs to go in order to be sustainable – urban agriculture.
Germille realized from a young age that he needed to tell the story of Juan Grandi, and his own life is a trajectory to arrive to this goal. And as it is beautiful about a story, sometimes the chapters write themselves.
Juan Grandi was an electrician and his job was at Lago (old refinery) thanks to the fact that he learned to speak English during a stint working in Cuba to support his family. He couldn't read nor write, but even so, he had a great influence. Juan Grandi put a lot of value in family and the development of Angochi and the neighborhood, and even became elemental for politics in Aruba. Juan Grandi was the first in his neighborhood to have a car, and he procured the first filming project in Aruba.
And perhaps it was what inspired Germille to enter media. In his adolescence he felt that television or audiovisual media was the way. Germille was barely 15 when, after asking for a long time, he got a call from (TV channel) ATV for the airing of boxing. His work was to move cables, but Germille accepted it gladly. With airing of world soccer, Germille entered the studio, which helped him get closer to his goal to learn to dominate audio visual media.
It was while he was working with Star Vision, which later became Canal 22, when Germille learned more, under the guidance of Pedro Gomez and others who came from TeleAruba.
So it was a painful hit when the channel shut down and suddenly Germille was out of a job, but worse yet, he didn't have media to communicate in Aruba. However, he didn't stay at home for long. Aside from (night) school, he went back into production with Tessa Pietersz and Trend Alert. However, he realized that there had been no innovation in technology. So he decided to take out a loan and invest in cameras and computer for the new era of recording, digital. What the young entrepreneur was not prepared for however was that while clients wanted quality, they were not ready to pay for it. And his lack of experience left him accepting jobs for less than he was worth.
Consequently, the financial reality came knocking at his door, and Germille's story became one of a very disappointed, depressed young man, left with debt that he is still paying off. He fell into a deep depression, with a lot of anxiety. Germille tried to soothe the pain he was feeling with cigarettes and alcohol, but finally realized that what would calm him down and help him function was cannabis. "Cannabis removed my anxiety and allowed me to function and even help others. And because I am calm now, I don't need it anymore", he says.
But the spirit of Juan Grandi is strong within him, and it didn't take long for Germille, despite his wounds, to rise again and recreate himself. Even though the reality of life was still weighing on his wallet and emotions, Germille kept pushing forward.
He found a medium of expression in art, collaborating with Atelier '89. And his collaboration with Tito Bolivar, for the first Aruba Art Fair, formed another point of development for Germille, wince he met big artists from abroad and recognized their passion to tell social realities through art, in this case, through murals.
This was also the time he took on the nickname 'El Mustachi te Ama' (the mustache loves you). "I had a mustache and those who came to Aruba would call me by it". But as usual, there is rejection locally, and so "I decided to add 'loves you' behind the nickname."
In other words, to change the negative to positive. And that energy translated in art pieces including his unique vegetarian pizzas, made from the same ingredient which supported the Werleman family in Angochi for many years, maishi rabo (corn), yambo (okra), concomber chikito (small cucumber). Germille called his pizzeria Itza Pizza after his daughter, and now he tells Aruba's history in creations which are winning over tourists and locals, who are willing to pay for a unique product. The entrepreneur learned his lesson.
But more than a product to be sold, the ingredients in his pizza are homage to what Aruba can produce and the work of his great-grandfather who invested a lot of time in the culture and progress of Aruba. His great-grandson, who now took on the nickname 'Johnny Farina' (in English, Johnny Flour) is investing a lot of energy and time in order to keep his story alive, and at the same time contribute to awareness for the value of local art and agriculture, tangible heritage of Aruba.