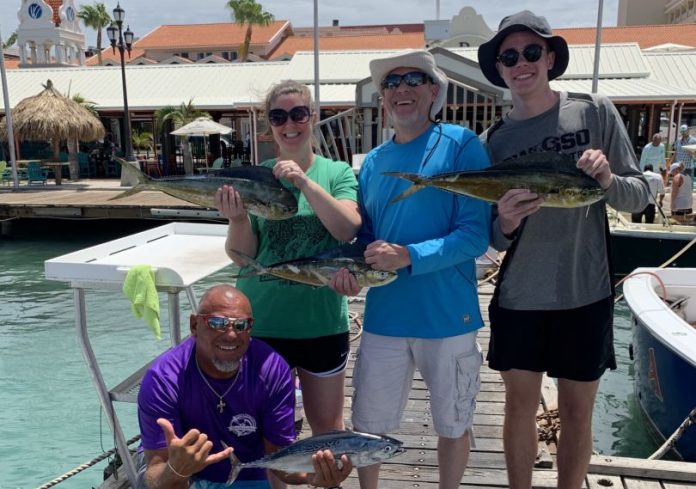 Slowly but surely, Aruba has climbed to the top tier of fishing destinations in the Caribbean. And for good reason. With amazing weather year-round, and a wide range of exciting fish to catch, this colorful island has all the ingredients you need for a bucket list fishing experience.
Fishing in Aruba is exceptionally good in July. King Mackerel enter the scene in full force, and you can catch them on the surrounding reefs within just minutes from the coastline. Wahoo fishing is good as usual, and Mahi are biting hard.
Captain Juan Carlos aboard Charters Aruba has had a pretty good going with Mahi in the past month. If you happen to catch one yourself, the Captain will clean and fillet your catch, so you can bring it to a local restaurant for a nice dinner to round the day off.
Inshore, Snapper and Grouper fishing has been on fire. A four-hour outing will let you catch your fill of these critters. If you're a Tarpon fishing enthusiast, July is probably your last chance to catch a record-breaker before the bite slows down.
If you're after bigger fish, however, you'll be pleased to know that Yellowfin Tuna fishing is still going strong. You won't need long to reach the offshore fishing grounds, so an 8-hour outing will give you plenty of time to wrestle these monsters.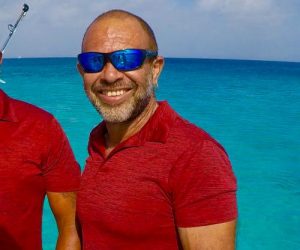 Captain of the Month
Captain Juan Carlos is an experienced and enthusiastic captain who will do whatever it takes to land you a trophy catch and to give you the time of your life!
Juan Carlos specializes in deep sea fishing, and is accompanied by a knowledgeable and professional crew. The Captain and crew speak English, Dutch, Spanish and Papiamentu fluently, and are always eager to help beginners learn how to fish.
Your outing with Captain Juan Carlos will happen on the Carla, a 31 ft Bertram, powered by 2 300HP Cummins M26BTA engines. The boat has a maximum cruising speed of 24 knots and can comfortably fit 6 guests. The boat is equipped with an enclosed toilet and comes with a fighting chair, as well as many other convenient amenities. To make your trip even more enjoyable, the Captain and crew will prepare snacks and drinks for you.Q
https://fishingbooker.com/destinations/country/aw