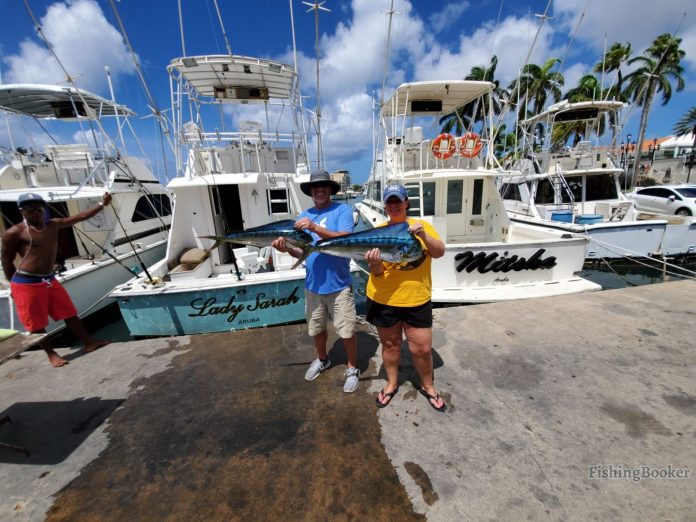 With summer definitely behind us, you'd think that it's time to call it a season and get those sweaters ready. Well, think again! October might mean slow fishing in some places, but definitely not in Aruba. Here, temperatures "cool down" to 85°, making the country a perfect getaway for you summer-yearning folk. More importantly, fishing in Aruba is on fire in October!
As the water temperatures start to drop, large, pelagic fish draw nearer to the island. What does this mean for you? You can catch some of the most coveted Caribbean big game, all within a few hours off the coast. Billfish like White and Blue Marlin enter peak season, accompanied by the fast-swimming Sailfish. The seas can get choppy, so remember to take Dramamine ahead of your outing.
If you prefer fishing in calmer waters, however, Aruba will be more than happy to oblige. October means that critters like Permit and Bonefish are finally starting to appear, so if you're looking to test your skills, this is the place to be. Unless you're a fly fishing expert, you'll probably need an experienced guide to show you the ropes for this type of angling.
If you don't feel like going out too far offshore, but would still like to catch something big, the signature Caribbean specialties are the perfect choice. Hit the reefs and catch anything from Mahi Mahi and Wahoo, to Great Barracuda and King Mackerel.
Just a few days ago, Captain Marcelino took a family out on a charter, and boy did they have fun. They started the trip by landing a Wahoo, quickly followed by a couple of Cudas. To top it off, they got into a true Mahi bonanza, with each of the three family members catching one at the same time. Oh, and they caught all of them on just a half day outing!
Captain Dennis Robles aboard the stunning Lady Sarah has recently had great success catching Mahi. The other day, he got two blue beauties. The best part about catching Mahi in Aruba is that you can bring it to a local restaurant for a delicious dinner to round off the day.
Captain of the Month.
Captain Dennis has fished around the globe in various major tournaments, with substantial wins under his belt. He's a fisherman in the most genuine sense of the word – up and down on different waters and coasts. He is used to landing big fish, first as his sport, now as his job.
The Captain's pride and joy is, of course, the beautiful boat, Lady Sarah. This 40-footer comes with all the amenities you'll need on an offshore trip, including a fish finder, fighting chair, and air-conditioning. On a trip with Dennis, you'll have all the necessary gear, as well as live bait and drinks. There will be a first mate on board to assist you with your gear and technique. You can bring your kids along, too, as long as they are older than 6.
Once you're back ashore, you'll split the catch with the crew, and they will fillet and clean it for you so you can have that nice dinner afterwards.
October in Aruba has all the ingredients for a memorable fishing adventure. All you need to do is pick a date and start packing!
For more information: https://fishingbooker.com/destinations/country/aw