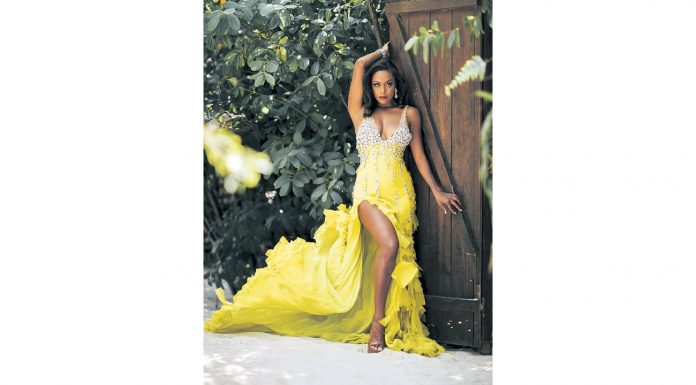 Miss Jeanique de Palm is a young woman with a successful career in beauty and entertainment. Currently she has her own dance group, she organizes workshops and seminars for the youth of Aruba. She also represented Aruba in the Reina Hispanoamericana pageant in 2021.
When she was only three years old, Jeanique took part in her first beauty pageant, Little Miss World Aruba. This was the pageant that opened the doors for Jeanique into the world of entertainment. Jeanique danced in many dance groups for many years. After a while, in 2009 she decided to take part in the Miss Teen Aruba International pageant, where she w as second runner-up. She also won Miss Teen Flamingo and Miss Teen Model International. This paved the way for her first international pageant.
"In 2010, I had the opportunity to represent Aruba abroad in the Teen Princess of the World pageant, which took place in the Dominican Republic. This was my first international pageant and from among 15 participants, I was crowned Teen Princess International, and I also won Best Costume", Jeanique told our reporter. "In 2013, I participated in the contest for Reina Grandi for Carnaval of Aruba, representing the group Champagne, and I was first runner-up as well.
Two years ago, Jeanique started her own dance group, Dazzling Dancers, teaching young children between the ages of 4 and 6, and 7 to 12 years, how to develop their talents in the world of dance. And last year, during the pandemic, Jeanique started with Beauty Within Me. "I wanted to do something different. And thinking about what I could do, seeing as you always get different camps for kids but almost nothing that is focused on teenagers", she explains. "I sat thinking, what can I do with the teens, that they will find appealing? And so I came with the theme of Beauty Within Me."
"The goal of Beauty Within Me is to create young people who are sure of themselves, and young people who stand up for themselves without fear of facing the world. The most important part is not only the project, but also what you want to bring with the project. So what you want is that after the seminar the kids can feel confident, that they can feel like they learned something that can help them in their personal development", she added.
Jeanique says that in 2020 the seminar went really well, being her first time, and she had 30 people participating, all between ages of 14 to 19 years. The participant received talks about various topics presented by young professionals from the community of Aruba.
She explains that 2021 was also successful, where she brought forward different themes like personal branding, self-esteem boosting and mental health – a very important subject for the community currently. "I invited a psychologist and kids who are going through [mental health challenges] also came to tell their story."
"That is a topic that currently is very popular, and there are a lot of children who don't have the correct information for it, so I think it's the right moment for them to talk to a psychologist, ask questions. The psychologist also could explain to them what they need to be aware of and what is the process that they're going through right now – because when you are young, you go through different changes and a lot of times you're not aware of it yourself", she explains.
For Jeanique, the greatest satisfaction is when she received comments from the parents of the kids who participate in her seminars, saying how for some of them, one way or another, the seminar has impacted positively in the life of the kids.
"That the parents see the change in their children, for me that is the greatest satisfaction. Because at the end of the day, the parent is the one who lives with the child and the one who knows the child. In my case, it's one week I spend with them. But if the parent sees a change one or two days after partaking in various seminars, for me that is more than satisfactory", Jeanique said.