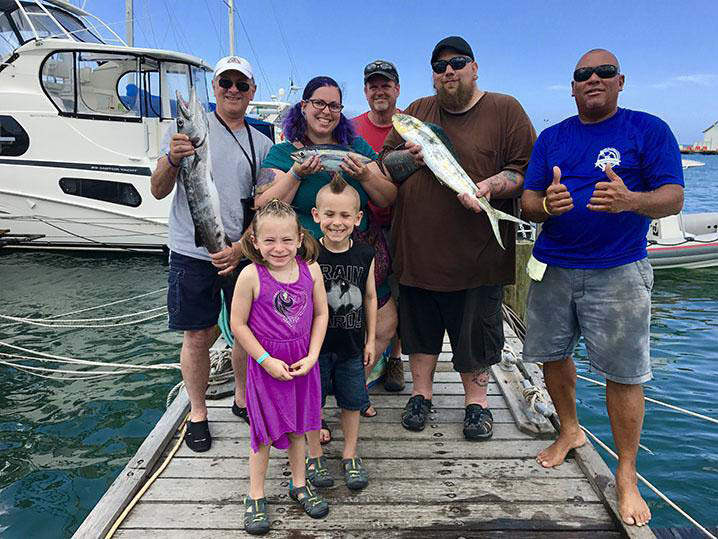 By Joris Zantvoort

ORANJESTAD ― Fishing has been excellent in the first days of June and is likely to continue so in the coming weeks. Anglers have reeled in Mahi Mahi, Bonito, Yellowfin Tuna, Wahoo, King Mackerel, and Barracuda. With a solid bite likely to last throughout the month and promising good weather, this June seems like the perfect moment to test your skills.
The first half of June has been warm, with the average temperature ranging between 25°C and 32°C. This warm spell is likely to continue, but make sure to bring your rain gear aboard as some days might see morning showers. It's been windy as well, but local anglers know how to use the wind to their advantage. If you're here for the first time, pair up with a local Aruba captain to take you to the good fishing spots. Also, you might want to bring Dramamine to help you with seasickness. Expect wave height of about 1.3ft/40cm and east and east–southeast wind of about 20 knots.
The first days of June have proven just how exciting game fishing in Aruba can be. Mahi Mahi are everywhere and you don't need to travel far to get them. Yellowfin Tuna and Bonito are also present in great numbers, swimming just a couple of miles offshore. Anglers have also been getting a lot of King Mackerel and Barracuda. The downtown marina in Oranjestad attracts many fishing enthusiasts, so you should book in advance, especially as more and more tourists arrive. According to data from FishingBooker.