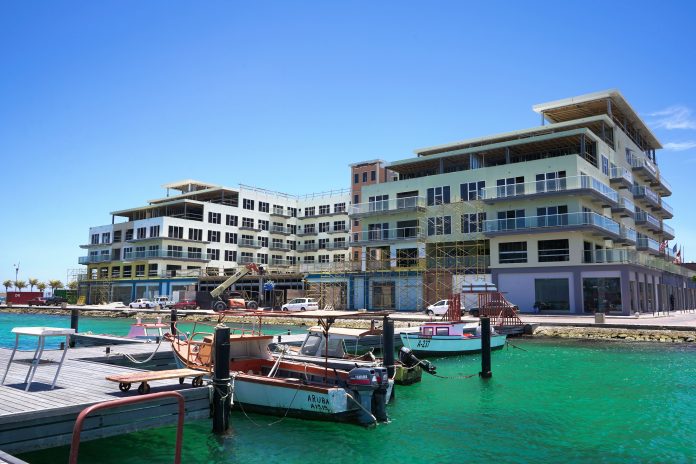 Cosmopolitan condominiums meaning an urban-like living on a central spot in Oranjestad in an open-floor concept, that is Harbour House Aruba. Best of it all: located in the middle of this tropical paradise. Yes, this is a divine reality with 94 units is the former 7-level Marazul building at the historic location of Paardenbaai. Make it your ultimate personal living or smart investment.
Sales Manager Marinelda Cartaya is excited about the project. The response of the buyers is uplifting and sales are increasing. On Aruba Today's Facebook page, owners expressed their enthusiasm. For those you wanting to see more, you can follow the progress of the project on their website: https://harbourhousearuba.com. It will continue to provide updates on construction including images. Marinelda: "When you live abroad you cannot easily step by to check upon your purchase, that is why we decided to provide updates on our website."
State of Construction.
The pool facing the harbor is completed and level three and four have walls and doors installed. There is a model unit available where you can see the amenities being offered. "There are only four studios left, some 2-bedroom apartments and furthermore 3-bedroom apartments are available. The air conditionings are being installed and we started with the outside area on the ground level also." The ground level will be a gallery of restaurants, art gallery, stores, and a supermarket. The pavers will be installed this week and the parking lot will be fixed that is in the future assigned to the owners and visitors. "If we continue like this, the intended deadline of June 2020 will be achieved," says Marinelda.
Dazzling View.
These luxury, high-quality condominiums are available at an affordable price. This is a golden opportunity for a retirement purchase or investment. "We offer two bedroom apartments with some even on the corners where you have an amazing 180 degree view and all around balcony." Imagine having coffee in the morning and see the city awaken while you also gaze over the Caribbean Sea at the same time. On the top floor of the building, there is an ocean-view gym and lounge area with Jacuzzi's giving you the "me-time" you need. The other side of the top floor offers a fantastic stand-alone penthouse with complete privacy and for sale against a great price.
Connecting Two Worlds.
Marinelda explains that so far, there 50 % local ownership and another 50 % non-local investment making Harbour House the perfect connection between Aruba and the rest of the world. The new trend is to live cozy but comfy, and Harbour House is the perfect match to meet this market demand. Everything is near. You are centrally located, just a few steps from the beach and still in the heart of Oranjestad. You have history to tell and you are within walking distance to all the capitol city has to offer.
Highlights
Infinity pool over Marine Oranjestad
State-of-the-art lobby
Ocean-view gym
Bar service
Rooftop with 360 degrees view of Oranjestad
On-site parking
24-hours security
Top floor lounge area with Jacuzzi's
For more information: https://harbourhousearuba.com