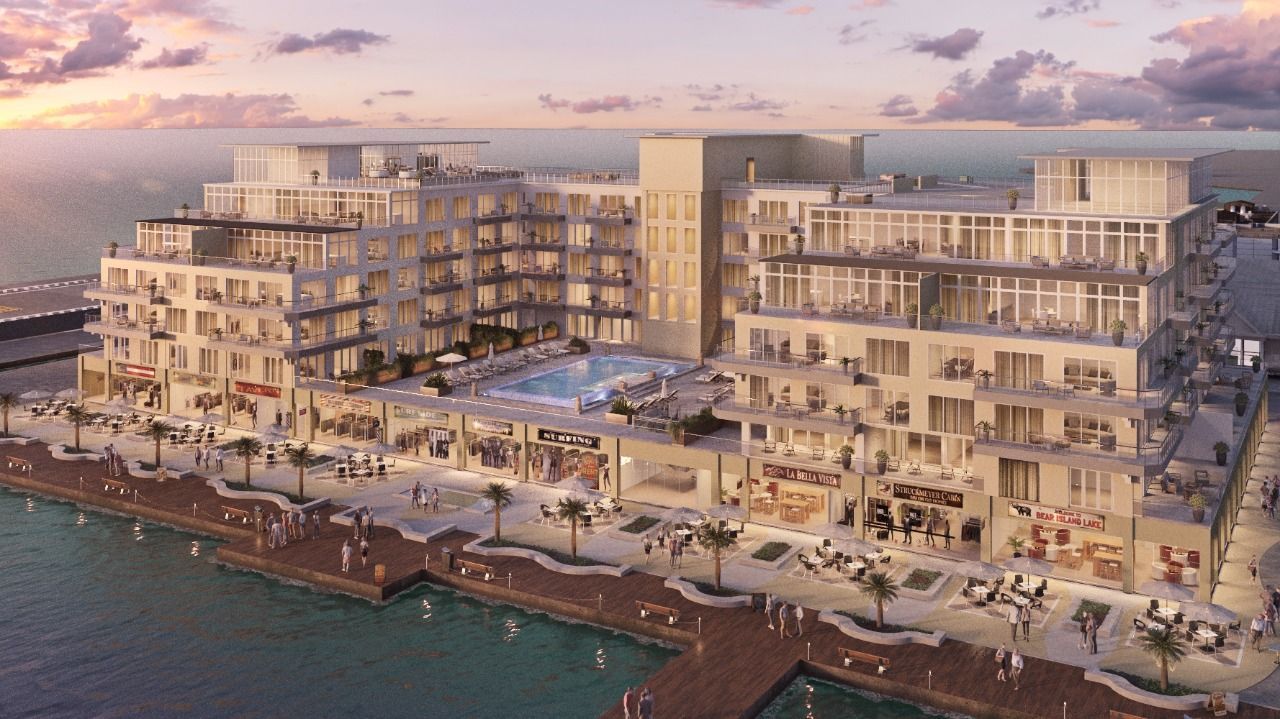 ORANJESTAD — Cosmopolitan condominiums meaning an urban-like living on a central spot in Oranjestad in an open-floor concept, that is Harbour House Aruba. Best of it all: located in the middle of tropical paradise; Aruba. Yes, this is a divine reality with 94 units in the former 7-level Marazul building at the historical location of Paardenbaai. Make it your ultimate personal living or smart investment.
Marinelda Cartaya, Sales Manager, elaborates on the construction phase of this unique project. "We started about a year ago with the construction and we are super happy to say that we are on schedule. All the divisions of the different condominiums are done, so you can actually see the interior space in each unit." Besides the divisions the floor tiles of the condominiums are being laid as well.
"By just looking at the materials you can really imagine how the end result will be. We can also show a model of the kitchens we use. You get the perfect picture", Marinelda continues. The 7th floor is where the gym with amazing ocean views will rise and on the other end the only and mind-blowing 5-BR Pent House is under construction. The roofs are currently being installed on this floor and floor 6 while the deep foundations for the pool level have been completed.
"That was a huge job as the foundations required piling 26 feet deep and there is only one machine for this type of job in the region. We had to bring it in to execute this work. Well, we really want the wow factor of the infinity pool overlooking the harbor, so we needed to do whatever it takes", she laughs.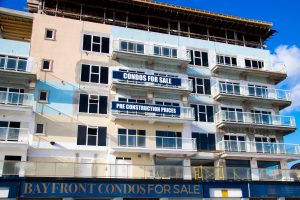 Best of Both Worlds
The construction is going according to plans meaning that the new downtown living that Harbour House offers will be ready in the first quarter of 2020.
"We have already sold all studios, there are some 2-bedroom condominiums left and we have 3-bedroom condos available. Of the latter we offer also corner units that provide you with an awesome 90-degree panorama over the city and ocean." Waking up with a view like that will start your day with positive vibes. Imagine yourself sipping your coffee gazing over the awakening city and the Caribbean ocean. The best of both worlds.
Everything is close, you are centrally located, just a step away from the beach though right in the main area in Oranjestad. You have history to tell and you are within walking distance to all Oranjestad has to offer. This is a different concept for Aruba, unique indeed. The value for money is great in comparison with the current offerings in the market plus you distinguish yourself with a city-vibe condominium.
Harbour Buzz
The ground floor will be a lively area attractive to both locals and visitors. There will be a pedestrian boulevard flanked by nice restaurants, good stores, ateliers for local artists, jewelry sellers and of course a minimarket.
"Imagine that all is right at your doorstep and if that is not enough the marina with its restaurants, cinema, city center with its stores and dining locations and the only convention center in Aruba are all within walking distance. The best beaches are just minutes away", says Marinelda. "We are open to businesses that would like to rent a space for their restaurant or store as well as local artists that are looking for a gallery space. Please contact us."
Highlights
Infinity pool overlooking Oranjestad Harbor
State-of-the-art lobby
Roof-top fitness center
Bar service
Rooftop with 360 degrees views of Oranjestad
On-site parking
24-hours security
Top floor solarium with hot tub
For more information: https://harbourhousearuba.com. The Sales Office is a walk-in office, just step inside as an appointment is not necessary. q