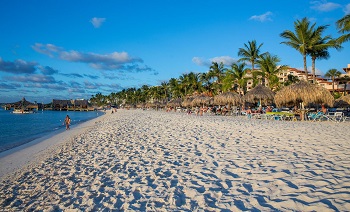 In January 2022, the Government of Aruba announced the exit strategy to go back to normal.
This exit strategy is essential for the recovery of Aruba's tourism. The government changed the entry policy was changed to attract more visitors.The Omicron variant impacted Aruba's tourism, and its repercussions were felt in January 2022. The forecast for tourism in 2022 was a recovery between 85% and 100% compared to tourism in 2019, Aruba's best year for tourism ever.
A highlight for January 2022 was the fact that although the decline in the number of visitors, there was a 79% recovery of the tourism receipt, which is the most important indicator to measure the quality of visitors. Last week, the Government of Aruba announced its decision to go back to normal and stopped all Covid19 restrictions. It will help the government focus on the recovery of tourism and the economy and create new opportunities that Aruba needs.
On Saturday, February 19, 2022, 5316 visitors arrived at the airport, of which 4384 were from the USA, our biggest and most important tourism market. On Sunday, February 20, 2022, the Celebrity Reflection and Celebrity Constellation cruise ships arrived at the Port loaded with visitors. The airline's load factor is increasing and is reaching 70% already, and the airlines are keeping the seating capacity that they reserved for Aruba. It shows the confidence that these airlines have in the product Aruba. The Minister of Tourism, Dangui Oduber is pleased with the number of visitors arriving at the airport and the Port during the past weekend. It was a good weekend for taxi drivers, tour operators, restaurants, and stores.