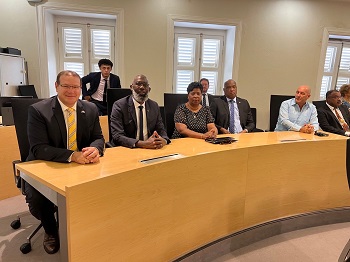 On Sunday afternoon, September 4, the Governor of Aruba, H.E. Alfonso Boekhoudt, traveled to Bonaire for a working visit.
On Monday, September 5, the Governor was received by Mr. Albert Crestian, Park Ranger of STINAPA, for a tour of the Washington Slagbaai National Park.
There the Governor was informed about the ambitious ecological restoration program STINAPA is implementing in Slagbaai in cooperation with the Public Entity Bonaire. The goal is to remove all invasive grazers from the protected area.
That same evening Governor Boekhoudt attended the reception at the official residence of the Governor of Bonaire, Mr. Edison Rijna.
As part of Dia di Boneiro, the Governor attended the solemn gathering in the Island Council the next morning, followed by the protocol ceremony at the Wilhelminaplein.