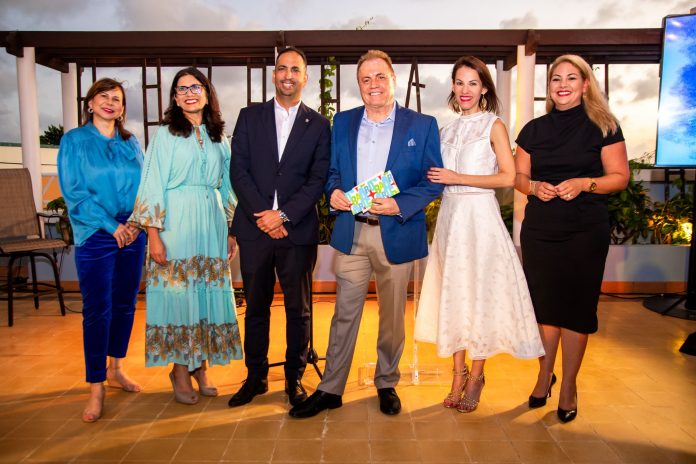 Recently an event took place to thank Ed Malone for his work as Director for North America for Aruba Tourism Authority for the past nine years. During the event, minister of Tourism, Mr. Dangui Oduber, CEO of A.T.A., CMO of A.T.A. and Ed himself shared some words about his trajectory in Aruba for Aruba, as well as his passion for Aruba.
In Ed's own words: "I came to Aruba to find a job and I found a home."
His arrival was in 1987, when he was transferred temporarily to Aruba as a GM at Americana Aruba Beach Resort. From that moment on, he had a connection with our island and this connection remained forever. Ed stayed as GM at Americana until 1998, and after that he served in different roles in hotels in Aruba but also as part of different associations; among others, as president of AHATA and CHA in different roles.
Between 2011 and 2014, Ed was also a member of the supervisory board of A.T.A. In 2014, Ed left the island for a temporary job, in the name of A.T.A. to attend with different affairs in A.T.A.'s offices in the United States. In 2015, Ed officially became Director for North America and was officially in this position until the 31st of December 2022.
Ed together with his North America team and the agencies in the market created and adjusted strategies to attract high-value visitors. He also created campaigns that not only reached the target audience and surpassed stated goals, but at the same time caught the attention of others in the industry and manage to win different prizes for Aruba.
The fact that a transfer to do a temporary job in Aruba almost 36 years ago created such a big passion for our island that is still visible today is something extraordinary. Additionally, the fact that Ed always shared his knowledge and gave colleagues the opportunity to learn and grow are part of what makes him an even more special person.
The entire team of A.T.A. thanks Ed for believing in Aruba as a product and for loving our island. We trust that in Ed's new chapter, Aruba can continue depending on his great support and dedication.