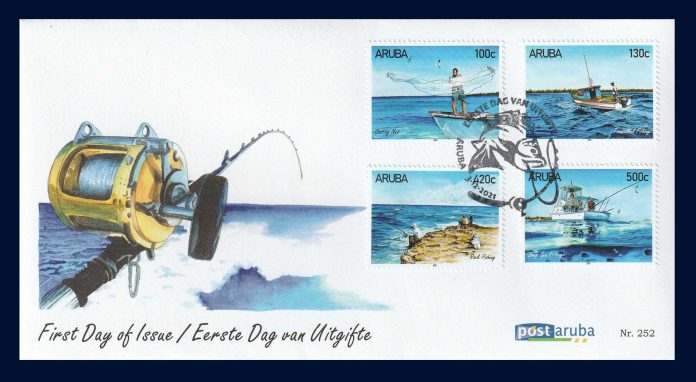 What are the different fishing techniques?
The five basic methods of angling are bait fishing, fly-fishing, bait casting, spinning, and trolling. Bait fishing, also called still fishing or bottom fishing, is certainly the oldest and most universally used method.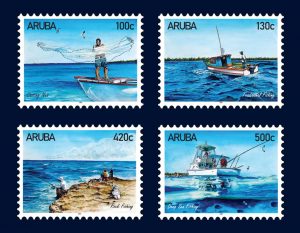 Rockfishing Aruba:
Rock fishing can be done with a rod and reel, on Aruba they use balloonfishing and handline fishing. On the north side of Aruba they do rockfishing, mostly done with handline and rod and reel, pretty dangerous job, with the sharp rocks and big waves. At Malmok, Arashi , Boca Catalina and Tres Trapi the locals do a lot of balloonfishing, because of the strong offshore winds, they can send the bait far away from shore. Balloonfishing is a bit controversial; plastic balloons are bad for the environment, the good thing is, many fishermen use a lot of bio-degradable balloons these days. Rock fishing can be done both with artificial lures and natural bait. While bottom fishing typically relies on natural bait, both natural bait and artificial lures are used in different forms of surface rock fishing.
Deep Sea Fishing Aruba:
Home to some of the greatest Billfishing in the Caribbean, Aruba is slowly climbing to the top of every angler fishing wish list. Our tiny island off the coast of Venezuela boasts great year-round weather, colorful beach towns, and a vibrant fishing scene. Aruba fishing charters will take you into deep waters in search of pelagic trophies. Topping the list of fish to catch here are a slew iconic big game species. These include Blue and White Marlin, Sailfish, Mahi Mahi, several varieties of Tuna, and Wahoo. If you'd prefer to stay closer to shore, the inshore and nearshore waters can be just as exciting. The waters get deep as close as 2 miles from shore, meaning deep sea fishing is accessible even to anglers who only have half a day to spare. If you're hoping to hook a "Caribbean Grand Slam,"
Casting net, Papiamento name: 'Tarai'
A casting net, also called in Papiamento 'tira tarai', is a net used for fishing. It is a circular net with small weights distributed around its edge.
The net is cast or thrown by hand in such a manner that it spreads out while it's in the air before it sinks into the water. This technique is called net casting or net throwing. Fish are caught as the net is hauled back in. This simple device is particularly effective for catching small bait (masbango, anchiovis) has been in use, with various modifications, for thousands of years.
Traditional fishing Aruba:
Traditional fishing is in 'small' selfmade wooden boats, they use a couple of different methods.
One of the methods is with a group of small boats and divers and they use big nets to get small baitfish. The divers looking for the baitballs of small fish. The boats circle around and start netting. The divers close the nets, so that no fish can escape. Another methode is using trolling with handlines and chumming and baiting in kind of circles, trying to lure to big fish in, barracuda, wahoo,kingfish, mahi mahi is where they are going for..
What they also do is go out fishing at an edge reef and head of ridges. One of the ridges is close to Venezuela is called 'barra' , the fisherman throw their anker and use deep sea rigs for bottom fishing. They are trying to get groupers, red fish, snappers.