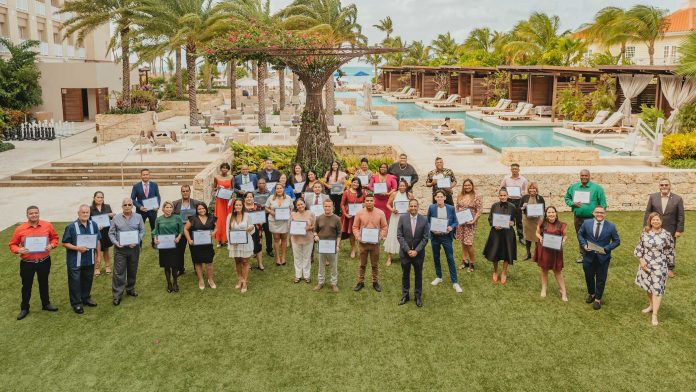 During an elegant luncheon event with 150 guests, the Aruba Hotel & Tourism Association celebrated the highly motivated employees supporting the industry.
AHATA members selected their top employee to be recognized with the AHATA Excellence Award for their outstanding dedication in 2021. In the presence of their peers and colleagues, 38 honorees received their certificate and a prize from the CEO and President of AHATA, Mrs. Tisa LaSorte.
The Minister of Tourism and Public Health, Mr. Dangui Oduber, and the Minister of Labor and Integration, Mr. Glenbert Croes joined the AHATA Board of Directors at the Hyatt Regency Resort Aruba to congratulate the deserving award winners.
The AHATA Excellence in 2021 Award winners are:
Jose Ureña Renaissance Wind Creek Aruba Resort
Godfried Loefstop Marriott Aruba Ocean Club
Jenny Boekhoudt Marriott Aruba Surf Club
Roland Hermosen Eagle Aruba Resort
Gary Bird E.L. Tours
Daniel Fernandes-Perna Holiday Inn Resort
Yesenia Valle-Ferreira Professional Pest Control
Delaine Samuels The Salamander Group
Kanchan Motwani Diamonds International
Minoushka Lampe Colombian Emeralds International
Jorge Villada Restrepo Yemanja Woodfired Grill
Marisol Sanchez Maldonado Amsterdam Manor Beach Resort
Rose-Mary Loopstok Po-Ké Ono Restaurant
Jeanclaude Werleman Infini Restaurant
Lindella Croes Penha
Julie Dijkhoff Radisson Blu Aruba
Cheqion Arends De Palm Corporation
Ana Maria Artunudaga Manchebo Beach Resort
Shamanta Dirksz Tropical Bottling Company
Natalia Certuche Maggy's
Ramon Statie Divi Aruba Phoenix Beach Resort
Gregory Tromp Divi & Tamarijn All Inclusive Resorts
Genise Boisrond The Ritz-Carlton, Aruba
Jennifer Bueno Papiamento Restaurant
Sandra Aragon-Ramirez AZIA Restaurant & Lounge
Angel Rodriguez Amaro Boardwalk Boutique Hotel
Rulene Schmidt Hyatt Place Aruba Airport
Jacquelina Kelly RIU Palace Antillas
Josue Santana RIU Palace Aruba
Carell Leonardo Fingal Bucuti & Tara Beach Resort
Lissette Kinziah Rodriguez Fofoti Tours & Transfers
John Lopez Restrepo La Cabana Beach Resort
Paola Thielman Courtyard by Marriott Aruba Resort
Errol Every ECO Santa Lucia Landhuis & Cunucu
Glenda Henricus ECO Destination Management Services of Aruba
Raynedrick Koolman Pelican Adventures
Erwin Williams Divi Village
Daniel Quandus Hyatt Regency Aruba Resort
This is fourth consecutive year AHATA helps its members honor their exemplary employees and each winner will be showcased on the association's social media in the coming weeks. To get to know these champions of service and learn more about how they stay motivated, follow the Aruba Hotel & Tourism Association Facebook page. AHATA is grateful to the main sponsors: CMB (Caribbean Mercantile Bank), De Palm Corporation and Tropical Bottling Company for their significant contributions to the event.