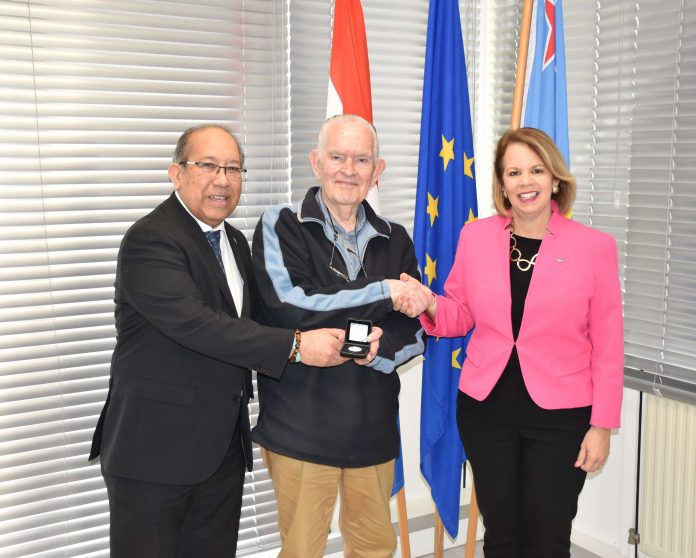 (Oranjestad)—Prime Minister Every Wever-Croes, Along with Minister Plenipotentiary Ady Thijsen received Mr. Nico van der Ven at Arubahuis in The Hague, The Netherlands, where he was officially given recognition for his work with different political leader in Aruba and around the Antilles.
Mr. van der Ven is a well-known photographer, who has always helped Aruban politicians in The Netherlands. He was fond memories from his many visits to the island as well. The prime minister explained that she had known Mr. van der Ven since the beginning of her career in politics and that Mr. van der Ven has always been someone willing to help.
This week, they have invited the photographer to Arubahuis to give an official recognition as a thank you from Aruba and representatives from the island for the great work he has done with Aruba in The Netherlands.
In a conversation between the prime minister and the honoree, the latter shared some fond stories with Prime Minister Wever-Croes. One of these stories that really captured her attention was when met her uncle and Aruban Hero, Mr. Betico Croes, in a dark and sad corner in The Hague. When he asked Betico what was wrong, he told the photographer that he misses his children. "That's something that you sympathize with for sure, especially given the long period of time he had been away from his family," the prime minister expressed.
As part of the official recognition, the prime minister gifted Mr. Nico van der Ven a coin for the hand he always held out for the islands in the Dutch kingdom.