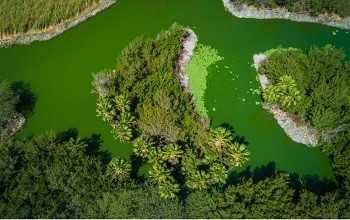 The Department of Public Works (DOW), will start removing the water hyacinth from the Bubali Plas, with the approval from the Arikok National Park and Department of Nature and Environment.
Due to the magnitude of the Bubali Plas, the DOW has decided to use heavy equipment to complete the task more efficiently.
It entails routine maintenance work carried out every year. The cleanup of the water hyacinths helps maintain a good water flow and the water quality in the Bubali Plas. It also protects the flora and fauna of the Bubali Plas.
This maintenance work is vital for the habitat as the water hyacinths have grown out of control and are covering a big part of the water surface. It blocks the sun's light from reaching the water, which reduces the oxygen level in the water. Without this routine maintenance, the Bubali Plas will deteriorate to a level where the flora and fauna will also disappear.
The routine maintenance work will take between 2 and 4 weeks.