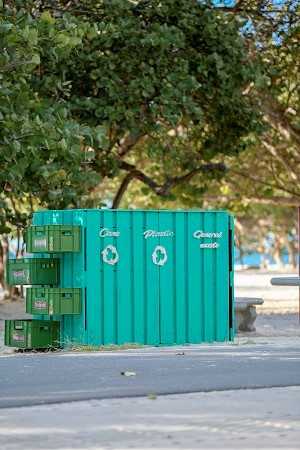 In connection with sustainable tourism and following the Sustainable Development Goals of the United Nations, the Minister of Tourism and the ATA launched a recycling bin pilot project. 
These recycling bins are placed strategically on the beach, which will elevate our tourism product. In the past, the Ministry of Tourism and the Tourism Product Enhancement Funds (TPEF) were responsible for the trash bins on the beaches. The TPEF initially explored this project and considered other alternatives in waste management that will contribute to sustainable tourism. Unfortunately, in 2020, the TPEF could no longer contribute to this project due to a lack of funds. Back then, there were 100 waste bins along the beaches. To keep this project running, the ATA jumped on board with funds.
Now, to help develop our tourism product, there are 22 recycling bins available. In 2021, they searched for different options to re-install these trash bins back on the beach while complying with the existing requirements, including new requirements for recycling aluminum, steel, and plastics. It also includes the recycling of bottles by local companies. These recycling bins are new and designed with the colors of the Aruba flag. The sponsors of these recycling containers are local companies and include the sponsor's logo. It is essential to dispose of your trash by putting them in containers and not on the beach. Keep in mind that this waste that ends up on the beach will eventually end up in the ocean with all devastating consequences for marine life.
Tourism is the driving force of our economy, and that is why we should invest in it and take care of it.