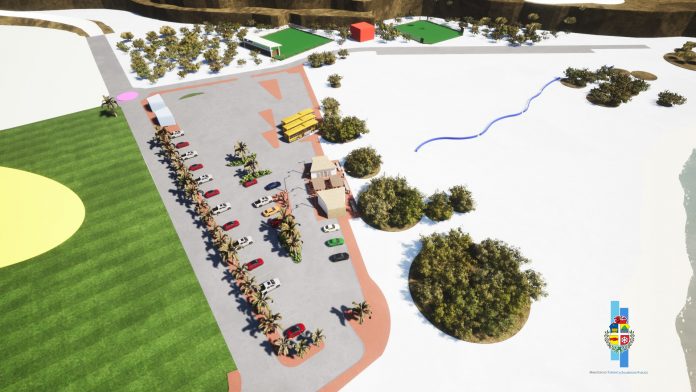 On August 25, 2022, the Minister of Tourism and Public Health, Mr. Dangui Oduber, CEO Aruba Tourism Authority (ATA), Mrs. Ronella Croes, and Director Public Works Department, Mr. Marlon Croes gave an update about the continuation of the Baby Beach Waterfront Promenade project.
This project is part of the Seroe Colorado master plan. This project will elevate the entire area near the beach while preserving nature in the area and creating an embellishment development in the area in a sustainable way.
The continuation of this project includes different aspects. The Baby Beach area will get a new parking lot and roundabout. Consecutively they will build public restrooms and two f&B kiosks. The idea is for the kiosks to reflect the Aruban culture and sell Caribbean food. They will also restore the tennis courts to create more multifunctional sports facilities.
It will also include facilities to practice "beach sports" like beach tennis and beach volleyball.
A commission of tourism infrastructure projects led by the Minister of Tourism will work closely with the Department of Infrastructure to establish a beach policy. Since this development is sustainable, they will plant many palm trees to create shaded spaces and limit the construction of palapas on the beach.
The terms of reference for this project are now available at the DOW for Awg. 350,00.
DOW will give specific details of the project on August 31, 2022, followed by the public tender on September 9, 2022, at the DOW office.
This project is possible thanks to the cooperation and teamwork of the Ministry of Tourism, ATA, DOW, and the DIP. This project is essential for the development of the entire Seroe Colorado area.