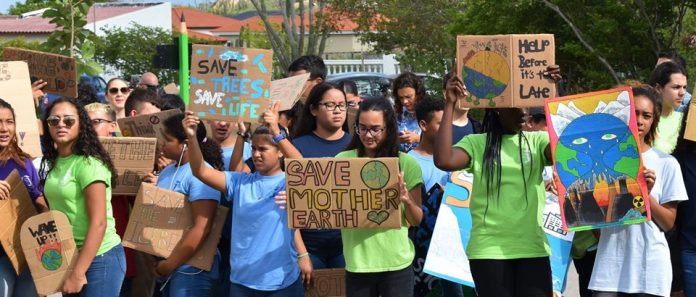 Young people all over the world are walking out of school again on November 29th to ask world leaders to step up and take more climate action. No more promises and plans but concrete emergency measures is what they request. Climate Action Aruba joins the global movement to push governments to bringing change.
Join them for a peaceful get-together at Wilhelminapark from 1-3PM in support of the young school strikers. Show that people of Aruba care. People of all ages are welcome as this not only concerns the younger generation, but all of us. Bring a sign/banner, with your reason(s) for joining us. If you are not able to come, you can also show your support by holding a sign with your intention, mention Aruba on it and post it on #ClimateActionAruba). As individuals we stand alone, together we can make a change.
New generation's concern.
There is a deep and worldwide concern about the future. Humanity is currently causing mass extinction of species and the global climate system is at the brink of a catastrophic crisis. The devastating impacts are already felt by millions of people around the globe. A recent report of the Intergovernmental Panel on Climate Change (IPCC) states that by the year 2030, if we continue to do business-as-usual, we will likely pass a tipping point and we might no longer be able to stop irreversible climate breakdown. 2030 is in only 10 years' time, a small window, and it is closing. By the end of the century temperatures will have risen by 4⁰C if no changes are made, this is by a conservative estimate.
The next UN climate summit will be held in Madrid from 2nd -13th of December. World leaders are getting together again to talk about climate change and the ways to curb the Climate Crisis. The last decades all the talks and plans have yielded little results. Targets are set too low to try and stay under 2⁰ C of warming, and these are not even closely met. Not enough concrete action is being taken.
Young people make up more than half of the global population. This new generation is growing up with the Climate Crisis and will have to deal with it for the rest of their lives. Despite that fact, most are not included in the local and global decision-making processes since they are not allowed to vote yet. They are the voiceless future of humanity. That is why every Friday young people all over the world are organizing strikes, demanding urgent Climate Action. No more promises but actual and urgent action. They are fighting for their future. Their demands are:
Lower the emission of greenhouse-gasses by retreating from fossil fuels, towards carbon-free energy sources. Follow the Paris Agreement and IPCC report. Lower the carbon- emissions with 50% by 2030 and net zero emisions by 2050. Stay below 1,5⁰C warming of global temperatures.
Protection of biodiversity, of nature
Unite behind the science and act upon it
Aruba needs protection.
Aruba is under threat too because of Climate Change and a lack of protection of its environment. Multiple plant and animal species are in danger of extinction or have gone extinct already. Warming of the ocean causes more and stronger hurricanes. Ocean-acidification, dying corals, rising sea-levels and flooding are a threat to people and environment. The future is at stake.
Of course we as individuals have to take up responsibility by making changes in our own lives, but Aruba as a country has to do its share too.
Last September the first Climate Action Aruba was organized to support the young climate strikers worldwide and to express their concerns about Aruba, asking for more concrete Climate Action from our government(s) and businesses. More than 600 people already participated, on different locations all over Aruba. Individuals but also schools, organizations and businesses joined, each with their own reasons why they feel more Climate Action is urgently needed.
Friday November 29th Climate Action Aruba is organizing its second action to convince Aruba's leaders to take a more active approach to this crisis. Aruba has a lot of NGO's, organizations and individuals that share a common goal: protecting the environment, our nature and its fauna and flora, all in their own different ways. What if we would come together and unite, find our common ground: the love for Aruba and the concerns we have about climate change and the effects it is having on our way of life, our fauna and flora.
Find more info on #ClimateActionAruba #350.org #FridaysForFuture or #Climatestrike