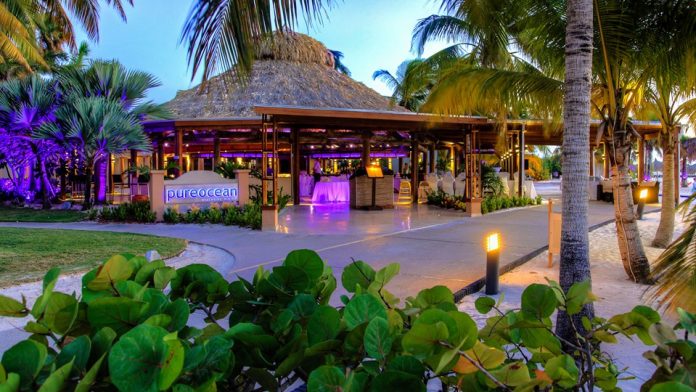 'There is a place I go to where no one knows me. It is a necessary thing' the lyrics of Matt Simons' song apply to The Sense, Taste Life event that is on tonight at restaurant Pure Ocean. In a nutshell this happening, from 6 to 10 PM, is where you get to catch a top shelf drink, a superb cigar, taste unlimited morsels for only $30. If this already sounds like a great deal, then check out the setting: on the beach outside of the buzz in a lounge-style décor. Release here from your work or active vacation day and indulge in your senses.
Chantal Beke, F&B Manager of the Divi Aruba Phoenix Beach Resort sums up the impressive list of top beverages that are offered: Remy Martin VSOP, Bumbu Rum, Glenrothes Scotch, Diplomatico Rum, Diplomatico Single Vintage, selected red wines Linda Flor Malbec, Durugutti HD, Rutini Blend, Coastal Chardonnay, Evan Williams Bourbon and Rye and Cremant de Bourgogne Champagne. There are two types of cigars: Don Lucas or Padron with Natural or Maduro wrapper, giving you a 20-30 minutes delicious smoke. In case you would like to try different cigars outside of the package you can choose from a wide offering with Gurkha or Arturo Fuentes cigars from the Dominican Republic or Rocky Patels from Florida.
Pampering Package
"The setting is in a super-relaxed lounge area style with live music from a saxophonist, violin player and percussion player all playing separately in combination with the DJ to build that chill-out vibe," Chantal explains. The cool combination of top shelf beverages, quality cigars, champagne, white & red wine, and food items like risotto with carving steak make your Friday night an experience. You can sit, stand, talk to the vendors behind their stands about the drinks and cigars or just gaze over the ocean and enjoy the moment of peace. "This is a gentleman's club feeling, the dress code is business casual because we get people who come straight from work to chill out. We have allocated an area to the left of Pure Ocean restaurant that feels like you are on your own Tropical Island." The scenery on its own is satisfying enough, but with this pampering package Pure Ocean indeed makes Life Tasty!
Reservations are not required, but seating is limited! This is a nice, intimate happening for adults only. Don't miss it, you will not regret.
Pure Ocean Restaurant
Divi Aruba Phoenix Beach Resort
J.E. IrausquinBlvd 75, Oranjestad, Aruba
T: +297 586 6066 Pure Ocean ext. 7002