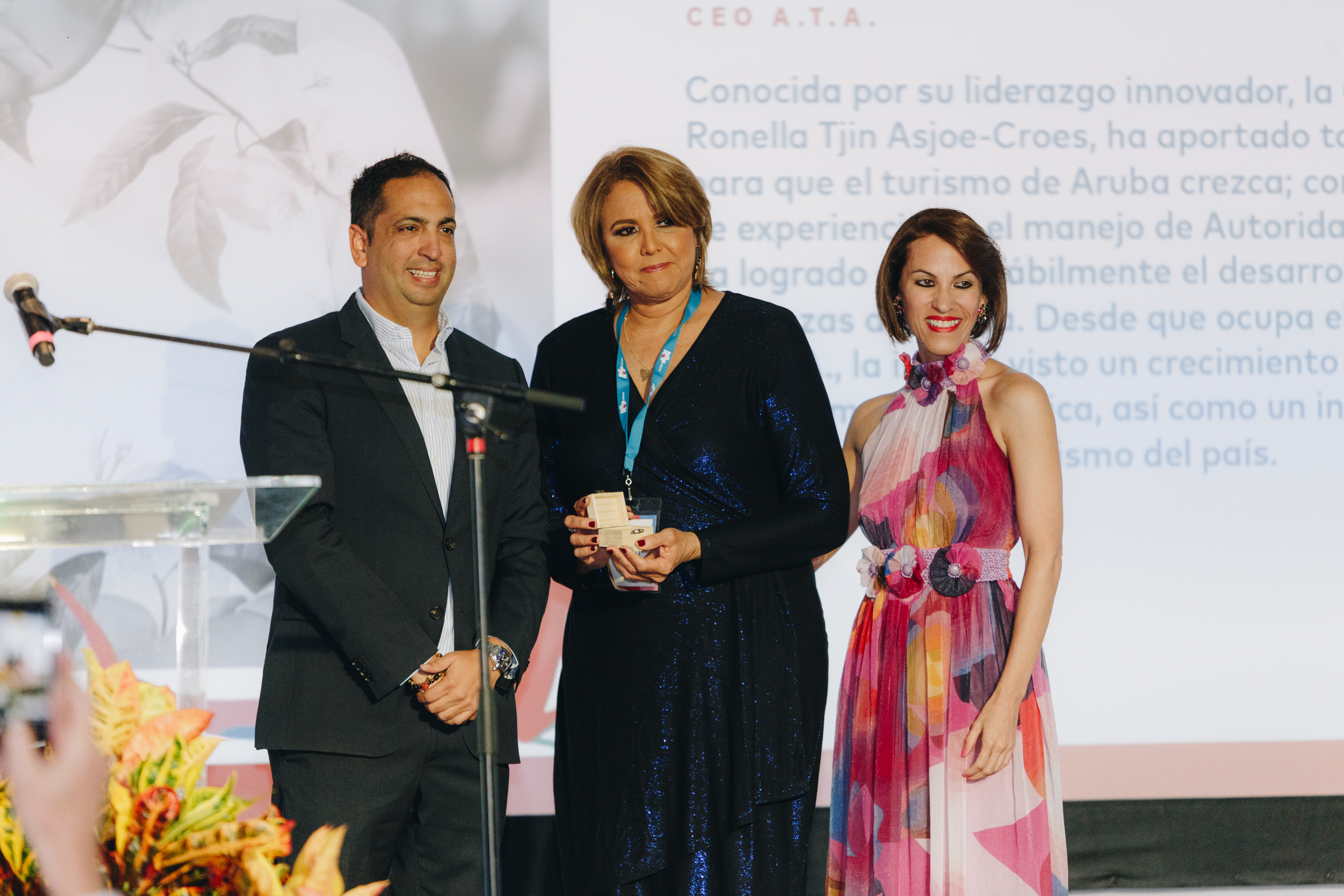 ORANJESTAD – The 29th edition of the annual tourism conference took place at the prestigious Hyatt Regency Aruba Resort, Spa & Casino. The minister of Tourism, Dangui Oduber, was also present at the opening ceremony. CEO of the Aruba Tourism Authority, Ronella Tjin Asjoe-Croes, conducted the opening speech. Also present were the president of the Parlaimant, Mr. Juan Thijsen, and members of the Parlaiment Louisette Christiaans-Yarzagaray, Rocco Tjon, Edgar Vrolijk, Endy Croes y Shailiny Tromp-Lee. The CEO of the Aruba Airport Authority James Fazio and the General Manager di Hyatt Regency Aruba Resort, Spa & Casino Gabriel Castrillon welcomed all the particpants. The night continued with different presentations.
The theme of this year's CATA conference was 'Power of Data and its influence'. "When it's time to take strategic and pratical desicions the Aruba Tourism Authority depends completely on Data. 'The data we are able to collect from this database, which consists of 16 million registered vistors, permits us to adjust our contents, refine the recommendations and messages to our vistors, prior to and after their trip', says Tjin Asjoe-Croes.
Positive results
In her speech the CEO of A.T.A. elaborated that the results observed of last year are drastical. During the period of 2011-2018 there was an increase of 4% annually of total visitors to our island. Consequently this lead to a positive increase of 5% to the economy of Aruba during this period of time. For the RevPar there was an yearly increase of 7%.
Honoring of Miriam Dabian
For the Aruba Tourism Authority it is very essential to honor the perseverance and dedication of its team members. Every two years the A.T.A. honors her members at their event called 'YOU' by presenting them with a special medal for their years of service. At the opening ceremony of the CATA 2019 the CEO of the Aruba Tourism Authority Ronella Tjin Asjoe-Croes surprised Miriam Dabian, Director of A.T.A. for the Latin American Continent by addressing her with words of appreciation and by praising her for 35 years work anniversary.
Dabian has ample experience in the tourism market. She has been working at A.T.A. for 36 years and her act of leadership at the Latin American market was fundamental for the growing of such mentioned continent. Dabian has been Director of A.T.A. for the Latin American Continent, focusing mainly on Colombia and Venezuela since 2007. At the beginning of this month, under her management with a different take on strategic marketing, the office of A.T.A. Latin America received a very important prize. The IAB MIXX 2019.
Commitment with the Latin American market
Aruba Tourism Authority is completely commited to the Latin American market and can assure that with the startegy and focus together with the support of their partners they will be able to have a succesfull 2019-2020.This conference gives the opportunity to the Latin American partners to relate and communicate with key tourism partners of our island but also serves to show them the latest developments taking place on Aruba. The team of A.T.A. and also the Minister of Tourism would like to thank AHATA, Aruba Airport Authority N.V., Avianca, Copa Airlines, A.T.A. LatAm and all local and international particpants for the effort and support for the succesful opening of the 29th edition of CATA 2019.q