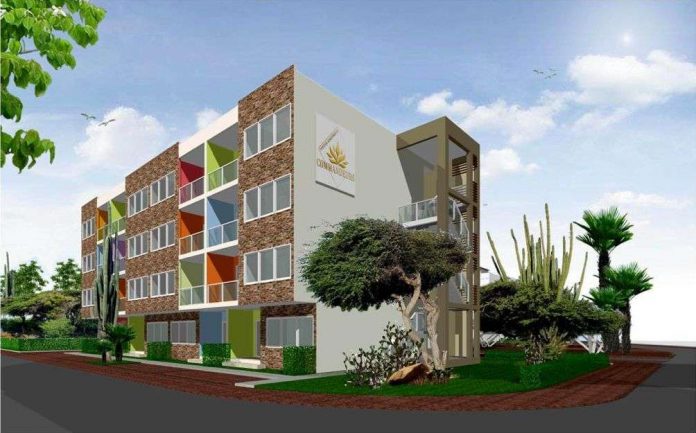 "The philosophy is to get more out of life and live in a great environment that is also sustainable," says Randolph Arends from Aruba Living Today. The property mediator is referring to their newest offering: Commandeurs Ponton Apartments. Construction of the complex has already started and Arends is happy to present to us the first buyers from the Netherlands. Why did they choose for Commandeurs?
"The perfect location, the environmental friendliness of the project with solar panels, the community feeling which is especially important when you have a certain age made us decide for Commandeurs. The prospect clearly states that this is the best purchase for starters and people who retire and we cannot agree more on that. On top of that we will be able to enjoy Aruba's famous sunsets," says the owner. They looked for an affordable and small apartment, though very comfortable and convenient and they found it. "We are beyond happy."
The modern designed project shines with happy, bright colors and offers affordable 2-bedroom, 1-bathroom apartments built with high quality European materials. Ocean view, centrally located, a community pool and great value for money. On September 14th 2020, construction started of the first of three buildings. "Now we started the first building with eight 72 m2 (775 sq. ft.) apartments and eight 54 m2 (581 sq. ft.) apartments. Pre-construction prices start at $ 152,000, but in the course of the building will increase. So get it while you can," Arends hints. He is happy to inform that several options on apartments are already taken.
Unique on the island: Home care offering & permit handling
Arends: 'What we see is that Aruba is very popular with the older generation, the pensionaries. Reasons are the stable warm climate, the quiet and long-stretched white-sandy beaches, the location outside of the hurricane belt, the safety of the island, the political stability, the high quality infrastructure and our friendly people. And let us not forget the high quality health care, founded on the system of the Netherlands." Aruba Living Today noticed that this type of buyer also requires assistance in several areas and they decided to take it all out of hands and offer more than the average realtor. "We are unique in this because we have our own certified Dutch nurse (multilingual) available for our home owners meaning there is a 24/7 home care for you standby. The interior design of our apartments will be as convenient as possible and wheelchair friendly with stable doors and wider entrance. We will be offering different packages of home care support and retirement permits. We are evaluating a shuttle service to take people to town and to the beach. Yes, we are here to release you of any hassle and give you back happiness and peace in mind!"
Details that matter
The development is close to the new Watty Vos Boulevard putting you within five minutes to Eagle Beach (voted as one of the best beaches in the world), the supermarkets and the downtown area. The building will have central air conditioning and the staircase or elevator will take you up to the higher floors which provide a spectacular view to the Caribbean Sea. By owning one of the apartments, you will automatically be a part of the owner's association which together will take care of the community grounds, pool, elevators and solar panels (on the roof and parking lot) to lower the costs of electricity. Arends: "Not too expensive, not too big. A good size apartment for those who strive to live comfortable yet still have the financial space to travel and do other things in life."
A happy, low-stress life provides the space to figure out what matters most and the freedom to focus on these things. Instead of spending your weekends on home maintenance projects or mowing a yard, you can go to the beach and the pool. You can relax more and even nap more (yes!) without thinking about things that need done around the house. Commandeur Ponton Apartments is all about intentional living, a concept that suits Aruba Living Today completely. Arends: "My goal was to do real estate in a different way when I established this company June 1st 2009. Not from the perspective of only selling, but to look for the perfect match between dream house and client. My philosophy is: it will only work when all involved are happy and connected by that personal touch."
Aruba Living Today
Tanki leendert 291
Noord, Aruba
Phone: +297 587 9987
Mail: info@livingtoday.aw
Website: http://www.livingtoday.aw