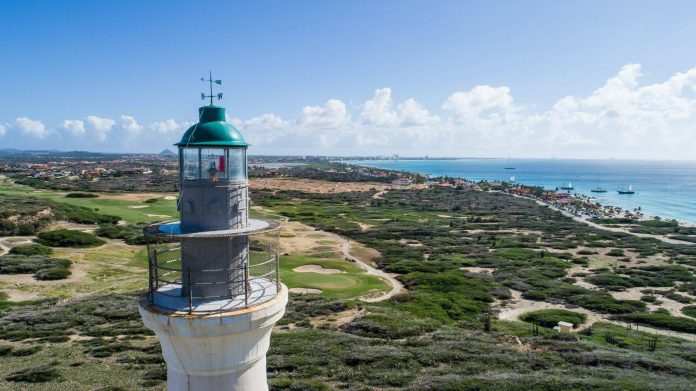 After being closed since February of this year, for a much needed maintenance, the California Lighthouse is now ready to re-open for the public this weekend.
The maintenance work were on this building was performed by Projexon Group. Most maintenance work were done on the inside of the monument. The wooden staircase had been fixed, the walls had been plastered and painted and windows also were fixed. The biggest change done was the installation of a banister that will give support when climbing up the stairs. In order to do this the Stichting Monumentenfonds Aruba (SMFA) had to request the permit to the Monumentsbureau, seeing that something new will be added to the monument. The banister will not only function as a support while climbing, but it will also help in preventing visitors from touching the walls when climbing.
For the plaster work and paint job executed on the insight of the lighthouse they made use of the original caulk material. The Stichting Monumentenfonds Aruba hired an expert on this material from the company Limeworks from the United States, who guided the contractor on the preparation of the surface and the process on how to apply the product correctly. The whole process had been documented by the SMFA for future projects. At the same time three more persons got certified for this application procedure. Back in 2019 a total of 19 persons took part of a special course given by the foundation and received the certification here for. When performing maintenance on historical buildings it is extremely important to use original materials in order to prevent deterioration. The use of this caulk will last longer and also will help the foundation in reducing maintenance cost.
Stichting Monumentenfonds Aruba would like to thank Experitours for their understanding and cooperation for the period that the lighthouse had been closed. For more information on the lighthouse visit their facebook page California Lighthouse Aruba.