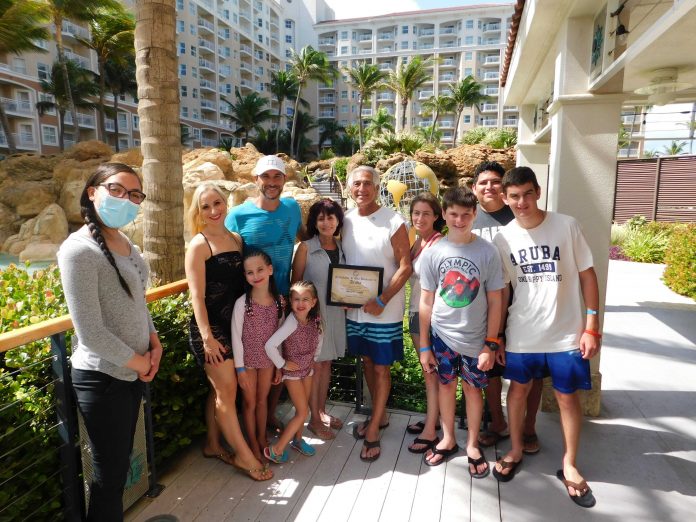 Kimberley Richardson and Marouska Heyliger of the Aruba Tourism Authority had the great pleasure to honor Aruba's loyal and friendly visitors. These lovely people have been coming to Aruba for 10-20-35 and more consecutive years. As a token of appreciation they received a symbolic honorary title on behalf of the Government of Aruba.
The honorees were:
Larry and Terri Eisenfeld from USA have who have been honored as Goodwill Ambassadors. They have been coming to Aruba for over 20 years. The ceremony took place at their beloved home away from home, Marriott Aruba Surf club.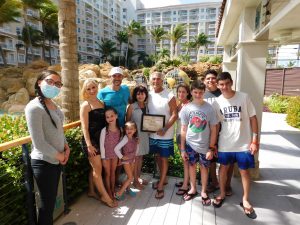 Perry Maione, resident of Montclair New Jersey, honored as Goodwill Ambassador. The honoring took place at Divi Aruba Phoenix Beach Resort.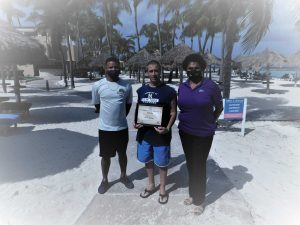 William Wilkinson, resident of Stuart Florida. Wilkinson has been honored as Emerald Ambassador of Aruba. He has been coming to his beloved island for more than 35 years consecutively and is an honorable guest at Casa del Mar Beach Resort Aruba.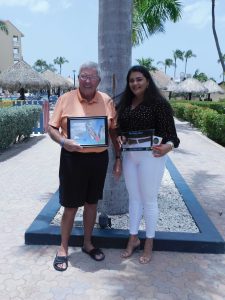 Arthur & Juanita Gil honored as Goodwill Ambassadors at the Renaissance Ocean Suites.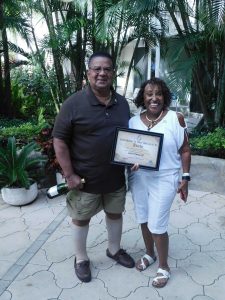 All these marvelous visitors have 1 thing in common, their love for the island of Aruba. They have many reasons why they keep coming to our island such as the perfect sunny weather. The safety of the island. The Aruban people who are always pleasant and kind. The delicious variety of food. The hotel staff that welcomes them and treat them as family and the familiar faces they see again every time they return to their home away from home.
On behalf of the Government of Aruba, the Aruba Tourism Authority and the entire community of Aruba we would like to say 'THANK YOU' for choosing Aruba as your favorite vacation destination for so many years.