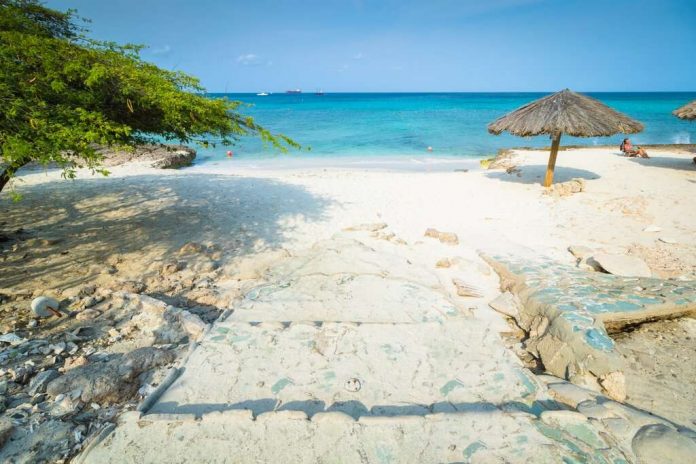 Where pristine white sand meets the turquoise sea, Aruba is the happy home to some of the world's most beautiful beaches.
Boca Grandi Beach
Take in the spectacular jumps and loops of local kite surfers at Boca Grandi, on a long stretch of white sands.
Steady trade winds and challenging waves make Boca Grandi a Caribbean beach paradise for advanced kite surfers and enthused spectators. The current is strong here; swimming is strongly discouraged.
This beach attracts the most advanced and adventurous kite surfers, locals and visitors alike.Beachcombers have the time of their life here, discovering all kinds of driftwood, corals and curiosa the ocean brings to shore. Recently a quaint beach bar was added to this area, providing chilled drinks.
Boca Grandi Beach in Aruba is a perfect stop on a drive to famous Baby Beach. It's only a 5 minute drive from downtown San Nicolas, the second largest city in Aruba.
A bright red giant anker marks the entrance to Boca Grandi Beach in Aruba. Don't forget to take advantage of a picture moment as Boca Grandi Beach makes for a gorgeous backdrop of this unique landmark.
Boca Catalina
Bask in the sun at this tranquil bay that provides easy ocean access and swimming and snorkeling options for all ages. The crystal clear and calm waters make this local gem Boca Catalina the perfect location for a private swim and snorkeling in Aruba.
Boca Catalina in Aruba is a small, secluded bay in the Malmok Beach area. The white sandy beach is accessible by steps from a spacious parking area alongside the road. During week days you can have this calm bay all to yourself; on weekends it attracts a fun mix of local families and tourists.
Boca Catalina bay offers a white sand beach area with some makeshift beach huts to protect you from the sun. There is easy access to the crystal clear ocean which makes this an ideal beach for families of all ages. Boca Catalina is popular with snorkelers and those who are looking for a more private and calm beach experience. You will find this beach on a short 5-minutes drive from the high rise resorts in Palm Beach on the main road towards the California Lighthouse.
Source: aruba.com