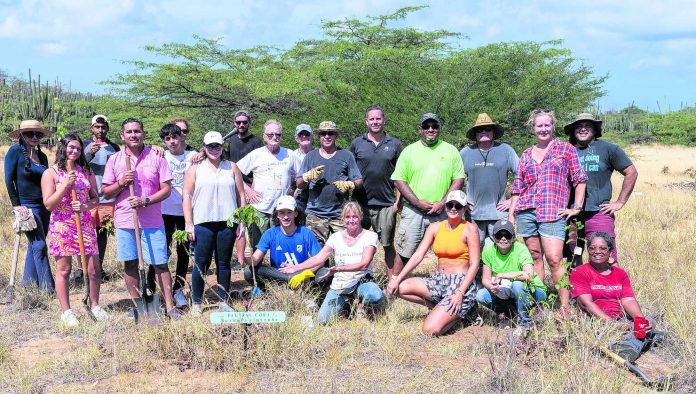 Last weekend, minister of Nature, Mr. Ursell Arends went and planted to give his contribution to the project Ban Lanta y Planta, which translates to "Let's go and plant". The foundation has a goal to plant ten thousand plants around Aruba, to help restore Aruba's natural ecosystem.
According to a press release, this is a great initiative to promote Aruba's native plants, as well as our flora and fauna in general. The plants were planted in such a way that when they are watered in the afternoon, the water goes directly to the roots, to make sure the plants grow in a sustainable way.
The foundation also has a schedule where volunteers can help water the plants, three times per week. This is an efficient way to make sure that the plants can survive in the hot weather of Aruba.
"It is a pleasure to have had the opportunity to spend a morning in nature, where value is given to our native plants of Aruba, and value is given to our environment", minister Arends said. "Because when nature prospers, us as human beings also prosper."
Minister Arends sends words of gratitude and admiration to the foundation and its entire team, as well as every volunteer who helped under the hot sun.
For more information on how to become a volunteer, please contact the foundation Ban Lanta y Planta through the social media. Together we can help Aruba's nature recover and mitigate the effects of climate change.