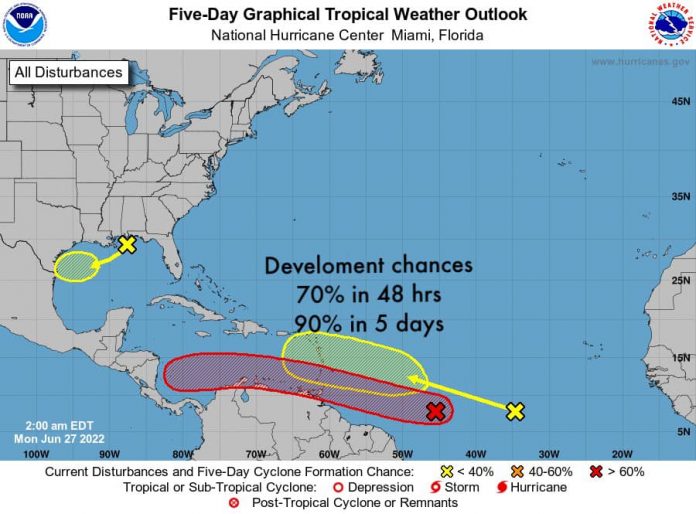 A tropical wave located about 700 miles east-southeast of the southern Windward Islands is producing a large area of showers and thunderstorms.
The environmental conditions appear conducive for development, and a tropical depression or a tropical storm is likely to form during the next day or so before the system reaches the Windward Islands Tuesday night or possibly while moving westward across the southern Caribbean Sea Wednesday through Friday. A tropical storm brings very high winds, torrential rain and high waves.
A NOAA Hurricane Hunter aircraft had been investigating the system and has found winds with tropical storm force. Those interested in the Windward Islands and along the northeastern coast of Venezuela should monitor the progress of this system, and tropical storm watches or warnings could be required for portions of these areas later today. Regardless of development, locally heavy rainfall is possible over the Windward Islands and the northeastern coast of Venezuela Tuesday night and Wednesday.
Aruba's weather forecasting services aim to continuously keep the community and visitors alike informed of all developments.
Recently, they reported that a tropical wave keeps producing a wide area of heavy rain. The atmospheric conditions remain favorable for the development of this tropical wave into a tropical depression or a tropical storm. This formation can occur within the next few days or before the tropical wave reaches the Windward Islands during Tuesday night.
This tropical wave will continue its course and enter the Caribbean Ocean moving up between Tuesday and Friday. Up until now, it is expect that this tropical wave will pass through the north side of the ABC Islands. It is said reported that the effects of this tropical wave on the ABC Islands, namely Aruba, Bonaire and Curacao will be moderate and this can be felt between Tuesday and Friday. The possibility of a Tropical Storm Watch or Tropical Storm Warning is issued remains.
A Hurricane Hunter aircraft continues to investigate the tropical wave and is continuously registering the winds in order to keep the community and visitors alike well informed.