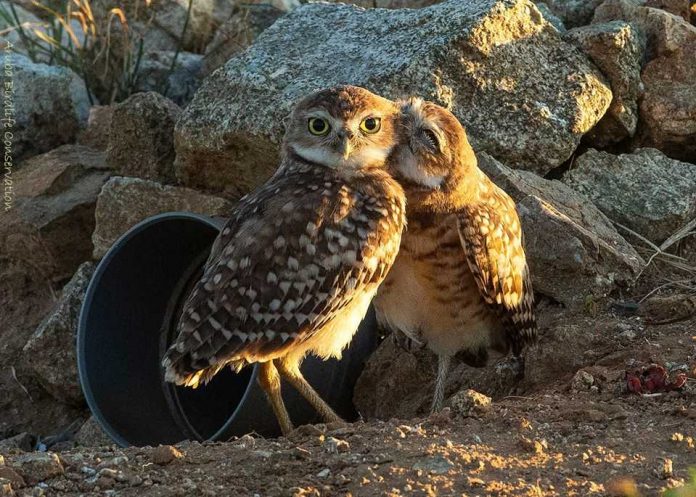 Shoco or Aruban burrowing owl's population has greatly diminished and is now endangered, with estimates of less than 150 pairs remaining. Threats include over-development and the invasive boa constrictor. Efforts are being made to ensure that it does not go extinct.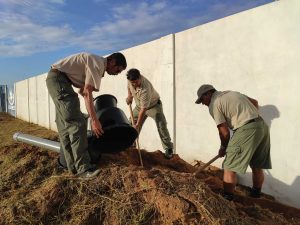 The 'Shoco' was made one of Aruba's National Symbols on February 2012. It also appears on Aruba's Postal Stamps and Currency. The year 2012 was declared to be the year of the 'Shoco' and for the Aruban burrowing owl to be nominated as Aruba's National Bird. The island's terrestrial protected area, Parke Nacional Arikok, is also an important refuge where the population can recover and the staff is actively involved in conservation efforts.
Teaming up with Tierra del Sol
In 2016 Aruba Birdlife Conservation and National Park Aruba formed a partnership to rescue the Shoco from extinction. They searched for an international partner and invited the Global Owl Project to join in their endeavor. A plan was made and together they then approached Cisco Quant, General Manager of Tierra del Sol with the request to partner in Aruba's first Shoco Conservation Project.
A fundamental aspect of the Shoco Conservation Project entails offering the Shocos artificial burrows which are strategically placed at safe locations. Over a period of two years, 22 artificial burrows were placed at such safe locations around the Tierra del Sol Golf Course. And the good news is that the Shocos love their new artificial burrows. The partners agreed that the time had come to launch this unique project in November 2019. Tierra del Sol was ready to serve as the primary example of the Aruba Shoco Conservation Project.
Our Governor Alfonso Boekhoudt is a profound nature lover who has taken an interest in the Shoco Conservation Project from day one. At that time the Governor paid an informal visit at Tierra Del Sol to be informed in detail on the progress made. During this visit he discovered that a pair of Shocos had moved in at Hole # 14, yes, at Tierra del Sol's signature golf hole! It goes without saying that it was this artificial burrow site which was chosen for the launch.
More homes for Shocos
As habitat is being lost to development and other human activities, the Shoco (Athene cunicularia arubensis) has to get creative in finding new areas to dig burrows for nesting, often in places not considered ideal by people.
Shoco needs soft sand to dig tunnels in and now nests are frequently being found in piles of construction sand, alongside roads, and even in drainage pipes. Such places are not always safe places for Shoco owlets. To avoid dangerous situations it is best to relocate the owls by creating artificial nests in a nearby safe zone, allowing the Shoco to move voluntarily to the new location.
SV Racing Club Aruba (RCA) reached out to the Aruba National Park recently so they could assist in relocating two Shoco nests that were near a dilapidated wall in need of reconstruction.
Sources: Aruba Birdlife Conservation & Aruba National Park