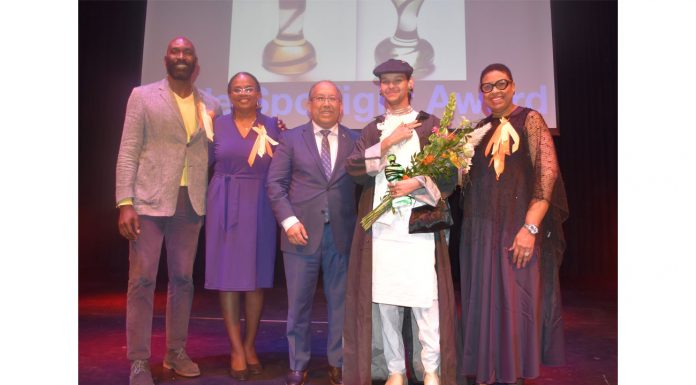 Aruban fashion designer, Darwin Winklaar, better known as Niño Divino, received from the Plenipotentiary Minister of Aruba in the Netherlands, mr. Ady Thijssen, the In the Spotlight Award 2022 at the Bijlmer Park theatre in Amsterdam.
Darwin is a multi-talented fashion designer who makes use of storytelling, music, dance and singing to express his artistic disposition. He reintroduced a new genre inspired by his Aruban roots: Neo-folkloric.
The In the Spotlight Award 2022 also went to Ivette Forster and was given by Helen Kamperveen, winner of the theatre award Colombina 21/22 for best actress.
Ivette Forster, from Surinamese descent, grew up in Aruba and currently is in charge of the organization of the Keto koti, Kwaku and Reggae Lake festivals. During the last seven years, Ivette is programmer of Black Achievement Month.
In the Spotlight Award is an initiative of Vereniging Antilliaans Netwerk, and the awards are a design of Aruban artist, Melvin Anderson.
Images are courtesy of Arubahuis.