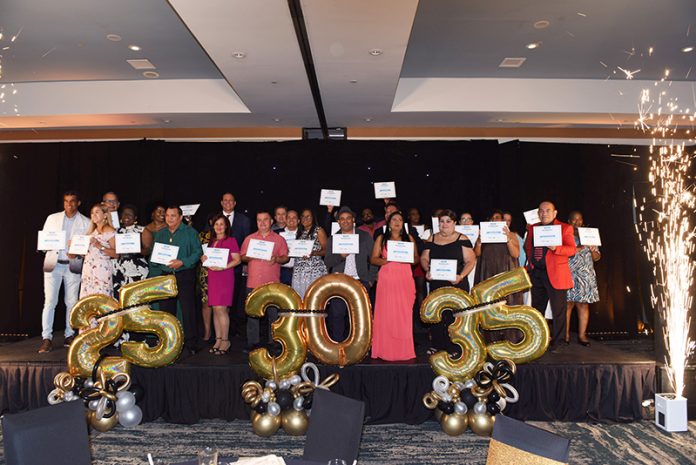 On Thursday evening, October 21, 2022, Hilton Aruba Caribbean Resort & Casino celebrated and honored 37 of its team members and their long-term careers.
The evening began with a heart-felt speech given by General Manager Vasco v. Baselli, in Papiamento, thanking team members for their loyal service throughout the years. The resort celebrated 25, 30 and 35 years of service for 37 team-members, representing a total of 1,055 years of experience and tenure. This staggering number of loyal team-members reflects on the resort's history, and on the opportune moment at which educated locals were looking to transition from the oil industry to tourism.
The Grande Dame of Palm Beach was known as the Aruba Caribbean Hotel when it first opened in 1959. In the mid-80s it became later known as The Golden Tulip. In the year 2000, the resort finalized renovations and became a flagship Radisson Resort, and in 2015, it became a beloved Hilton property.
Throughout the years and transition of hotel brands, loyal team members remained.
Glenn Farro, Director of Human Resources said "We call ourselves Charter Members. I am proud to have been recruited when the resort reopened as The Golden Tulip, signaling the beginning of Aruba's tourism boom".
"You are an inspiration to us all", shared General Manager, Vasco v. Baselli. "Your work-ethic and loyalty are admirable and the joy with which you serve our guests is exceptional". In the words of Elinor Roosevelt, "true hospitality consists of giving the best of yourself to your guests".
The Hilton Aruba Caribbean Resort & Casino enjoys a rich history and a rich tradition of heartfelt warmth and genuine Aruban hospitality.