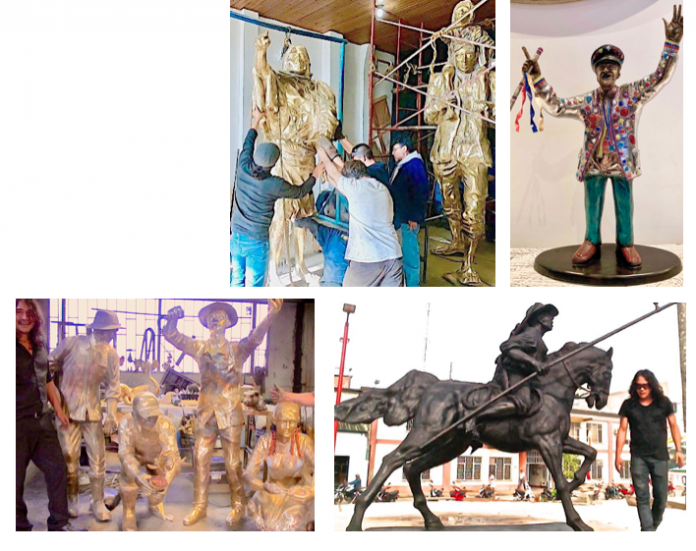 Beginning of this year a well-known Aruban artist was approached by a studio in Manchester, UK, to propose a work of art that would function as a public monument in the UK. This month the artist, Gilbert Senchi, also inaugurated his public art as an official representative in Dubai.
Going back more Senchi created a piece of art for the company Rolls Royce and their retired engineer nuclear submarine division. Recently the artist signed a contract with the Military University of Colombia for a monumental work at their campus in Bogota. The artist's international recognition is growing and also regional he has earned his stripes. Last year Senchi created and inaugurated a monument for the island of Bonaire as a homage to Sr. Tavio Sint Jago.
In Italy the Museum of Modern Art in Bologna worked with the artist as well when he was living there and in Berlin, Germany he opened a studio to work on the famous sculpture Berlin Studios. In conjunction with the 500 years of existence of Amsterdam, Senchi was invited at the "Arti et Amicitea" art society while he is also a member of the prestigious Campden Art Centre in London, UK.
His private collection of art is to be admired in the US cities of Chicago, Ohio, New York, New Jersey, Miami, Boston, Pennsylvania, Delaware, Atlanta and Orlando among others. Senchi has completed art for King Albert of Monaco, King Willem Alexander and Princess Beatrix of the Netherlands and other royal families. The foundation for public art ARTopia informs the community that the artist has his work exhibited in local museums and around the island. At the moment he is working on a public art piece which will for sure have a positive impact on the island. Aruba is proud to have Gilbert Senchi, originally from San Nicolas, as internationally recognized artist.