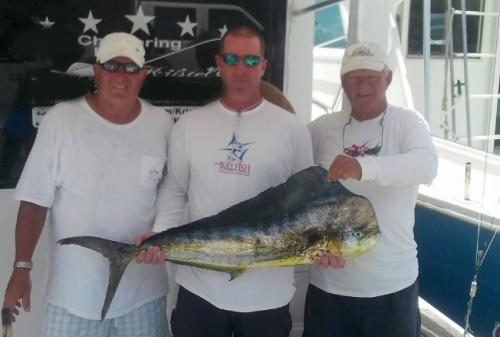 In most places, September means fishing is starting to slow down. In Aruba, however, things are just starting to heat up. Here, the temperatures are glued to the 90°F mark, and the colorful island doesn't seem to notice the change in seasons.
From fly angling, to reef and deep sea fishing, September in Aruba is set to make your angling dreams come true.
Away from the noise, the Aruban flats and mangroves are a great spot for fly fishing. Tucked away from the Caribbean winds, these spots are the perfect place for you to test your skills against feisty critters like Bonefish and Snook.
Offshore fishing stars like White and Blue Marlin are now in peak season, and places like Oranjestad and Noord offer no shortage of big game experts to help you catch them. To get the most out of the experience, make sure to book a full day and a big enough boat for this deep sea adventure.
If that sounds a bit too ambitious, head over to the reefs, where fishing is just as exciting. Heading the list are King Mackerel, accompanied by good sized Mahi Mahi and Wahoo. Mahi and Wahoo are some of the best tasting fish you'll find, so make sure to ask your captain to fillet your catch for you. There's nothing like a fresh seafood dinner over an Aruban sunset to finish the day off!
Captain Michael Wever aboard Kristel Fishing Aruba has had great success fishing the reefs recently. A few days ago, he came back with a variety of species including King Mackerel, Mahi Mahi, as well as Blackfin Tuna and Barracuda. All of that on a 4-hour trip!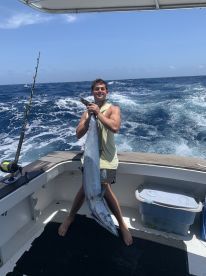 Captain of the Month
A true veteran, Captain Michael has been fishing the Aruban waters for years. An angler since the ripe age of 4, Michael knows these waters like the back of his hand. He grew up on Aruba, but has regularly fished the waters of Curacao, Bonaire, and Venezuela.
A father of four and grandfather of one, Captain Mike puts the safety of his guests ahead of everything else. Speaking of, the Captain's 44 ft Striker (motor yacht), will provide you with all the security and comfort you'll need on the open water. The boat is equipped with all the navigational gear you'll need, as well as a number of amenities like an enclosed toilet, a kitchen, and beds to rest in. The vessel boasts a fighting chair to fish from, life jackets, an ice box, and air conditioning.
The Captain will provide you with all the fishing gear and licenses, so you can focus on the most important thing – catching fish. Mike will throw in catch cleaning and filleting as a bonus, so you can enjoy your fresh catch when you get back ashore.
Joris Zantvoort is Dutch and a writer at FishingBooker.com. He publishes a monthly fishing report for Aruba Today. The company works with 17 captains in Aruba that help him create this report containing information like: What is currently in the water? What can you catch? Also amazing pictures are being shared and part of the column shows the Captain of the Month.