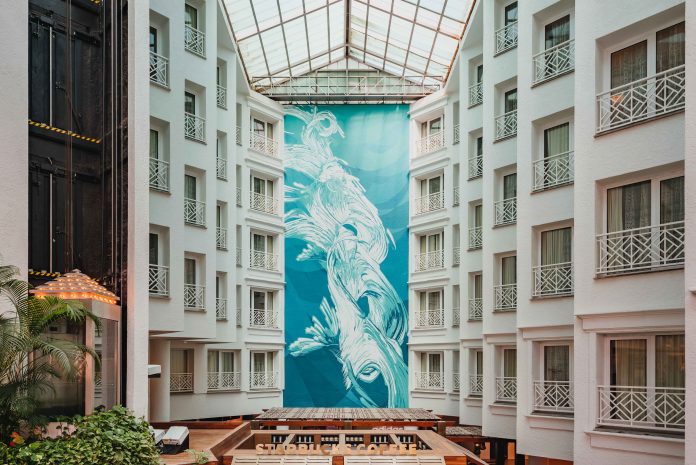 The biggest interactive art installation created by artists Emily Strauss, Victoria Przetak, Francesca Quintaino and Tim Rowan of Mural Painters Inc. has been installed recently at the Renaissance Aruba Resort & Casino.
The five story high centerpiece is installed in the atrium of the Renaissance Marina Hotel, complementing the remodeling and renovation program supported by Dash Design, the specialists in visual art and integrated visions. Bryan Dodson and Michelle Dodson of Integrated Visions were in charge of putting the design on a projector for the artist to elaborate it completely.
The 23 feet wide by 58 feet tall work of art is completely handmade and carries the title of 'Turbulent Tranquility'. It was created with latex painting on water base and accompanied by a 4 WUXGA laser projector, 6000 ANSI lumens, and interactive lenses to offer the visitor a dynamic and transcendental experience. The projectors will be using lights and multi-dimensional that will create an illusion pattern.
"We wanted to introduce an experience that is not attached to time and unique at the same time," stated Paul Gielen, General Manager of the Renaissance Aruba Resort & Casino. "In the meantime we continue beautifying and elevating our resort from the rooms to events. We got the opportunity to work with the visionary and creative team of Dash Design and Integrated Visions in order to create something completely new and that will change our way of interacting with our guests in the future."
The combination of technology and art will create a new platform for the guests and groups that want to organize an event at the Renaissance Aruba from corporate events to destination weddings to local art exhibitions and musical presentations. The artwork at the atrium will activate and amplify unforgettable moments taking place at the resort.