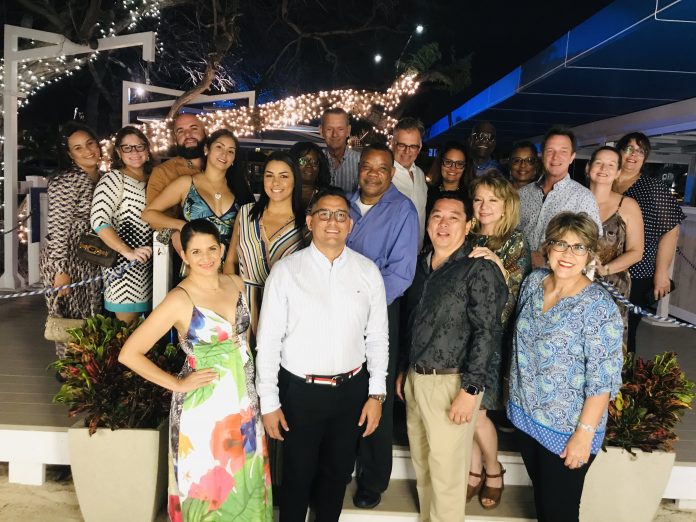 Members of the Aruba Timeshare Association, ATSA, enjoyed a networking opportunity over cocktails followed by delicious cuisine offerings recently, celebrating the end of a successful 2019 and the beginning of a hopeful 2020.
Party host, Luigi Heredia, at the helm of the organization, the General Manager of Costa Linda Beach Resort, greeted guests on the bar deck, on the beach at Amsterdam Manor. Having enjoyed a Kir Royale welcome flute, and a warm welcome by Heredia, party-goers proceeded to Passions on the Beach where round tables were set in the sand for a sumptuous dinner created by executive chef Gerard Coste, featuring a generous tasting of the restaurant's signature dishes.
Standing in front of a tightly-knit circle of ATSA colleagues and friends, Heredia acknowledged it was a busy but fruitful year. Aruba's Vacation Ownership resorts continued to deliver memorable experiences to loyal repeat guests and maintained their considerable share of the island's room inventory, contributing significantly to GDP.
For the coming year it is the organization's goal to create a handbook, outlining the role of the industry in Aruba. The handbook will be prepared in collaboration with the University of Aruba, and will be based on an earlier 2016 version, already published and endorsed by the organization.
It is the hope of ATSA that by creating a comprehensive text book, educated young Arubans will be compelled to join the industry which offers many personal growth opportunities, as many as those offered by the traditional transient hotels.
The vacation ownership industry, remarked Heredia, is often underestimated here, yet it is admired on other islands.
The organization will also devote more time to a desired name change to Vacation Ownership, a more appropriate term in the new millennium.
ATSA also wrote a co-promotion with the Aruba Tourism Authority into its first-quarter action-plan as the mature industry is looking to exploit more fresh opportunities in hospitality, and change its image to a more dynamic one.
With 15 resort members and 4 non resort members, Aruba's Vacation Ownership on the Caribbean's #1 destination, in the Interval exchange network, is proud of its owners, who have supported One Happy Island through thick and thin, through unfortunate personal tragedies, public relations debacle, and global economic slumps. They are a constant, as they keep coming back to their beloved island.
No other island in the Caribbean may claim that, Heredia stated, it is unique to Aruba and a source of envy to many.
Heredia concluded by saying that as long as the island is assured sufficient airlift, and as long as it continues to reinvent itself, offering new products, protecting the environment, and seeking sustainable alternatives, it will enjoy a prosperous 2020, and all the other years thereafter.