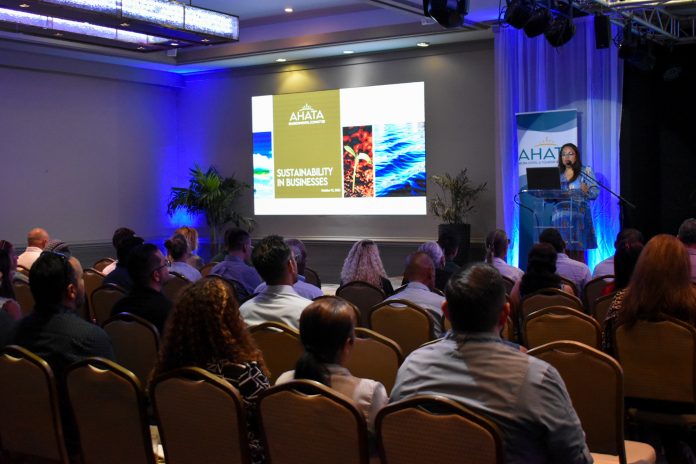 Aruba Hotel & Tourism Association (AHATA)'s Environmental Committee gave a presentation last Thursday at the Alhambra Ballroom to various small and medium enterprises. The commission consists of volunteer representatives leading the practice of sustainability at companies that are members of AHATA.
To commemorate Earth Day last year, AHATA distributed its guide of Environmental Best Practices with the goal of motivating member companies to implement the practice of sustainability in their daily operations. This year it was chosen to do a presentation that complements the information provided in the guide and give practical examples of local companies that are taking steps in the area of sustainability. The presentation of the commission illustrates the benefits for our environment and the financial benefit for companies that commit themselves to sustainability.
Topics presented during the session include the three pillars of sustainability (social, environmental and economic) and the main systems of reduce, reuse and recycle.
It illustrated what sustainability is in a business, water and electricity, preventive maintenance, and voluntary work to benefit our community.
Another important element is also how to involve employees in the process of sustainability.
In the end, the commission offered a mentorship program to help member companies introduce sustainability in their companies with basic practices.
The presenters were John Wardlaw from Tropical Bottling Company, Miriam Stuurman from De Palm Island, Ryan Bareño from Marriott's Aruba Surf Club, Andrew Rasmijn from Marriott's Aruba Surf & Ocean Club, and Daniel Aguirre from La Cabana Beach Resort. Other members of the commission who helped with the planning and execution were Astrid Winterdaal from De Palm Tours, and Vanessa Rasmussen and Laura Molina from AHATA.
In 2023, AHATA's Environmental Committee has different projects planned, including visits at primary and secondary schools to create more awareness in our community.
For more information and tips on how to live more consciously and help protect our environment, please visit the Facebook Page of AHATA Environmental Committee.