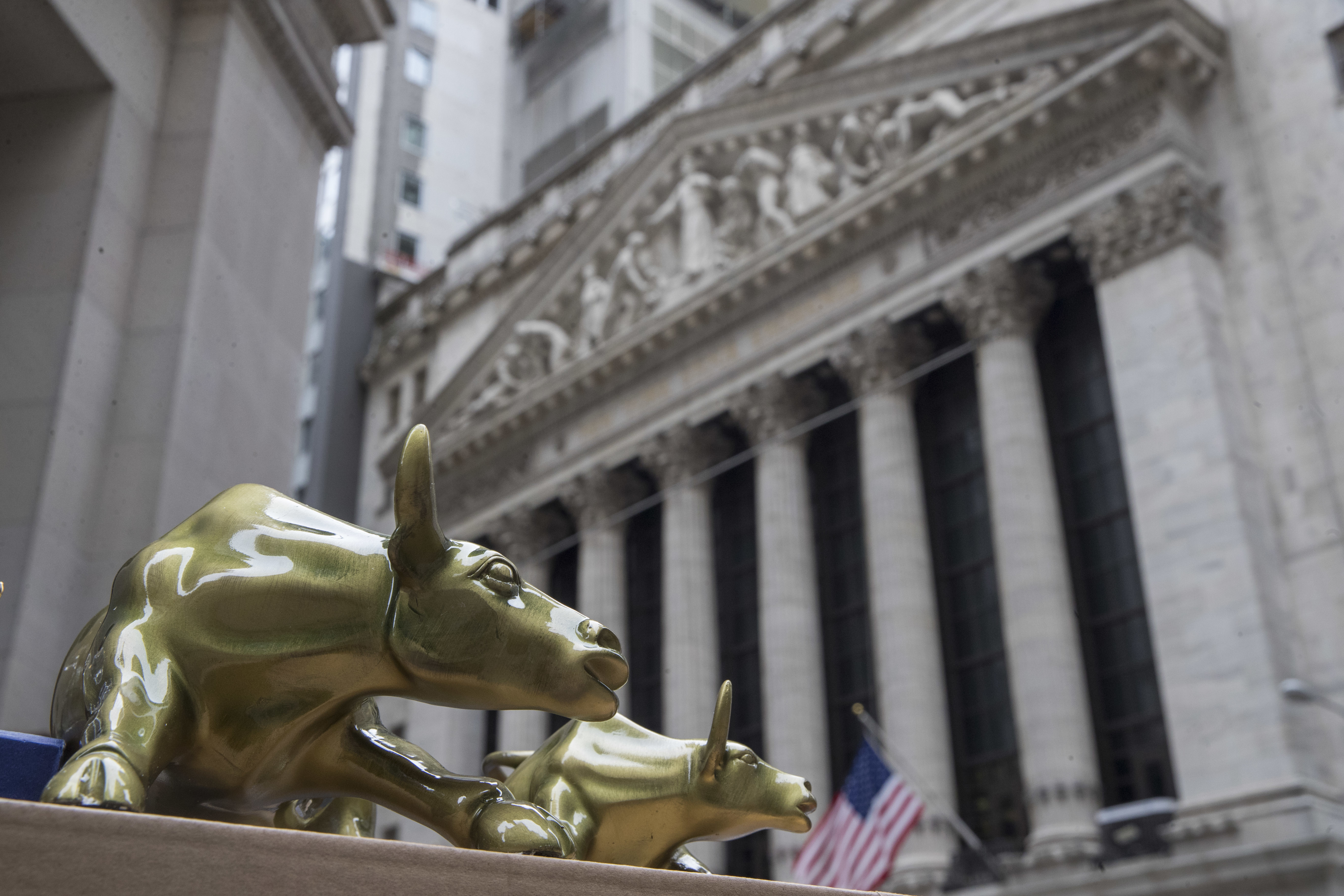 By MARLEY JAY
Associated Press

NEW YORK (AP) — U.S. stocks are mixed Wednesday after a federal court ruled that AT&T's $85 billion purchase of Time Warner can proceed. That could pave the way for hundreds of billions' worth of deals in the media and phone industries as well as health care, as investors felt numerous mergers now stand a better chance of getting approved. Investors are also waiting for the Federal Reserve to conclude its current meeting, where the central bank is expected to raise interest rates.

KEEPING SCORE: The S&P 500 index rose 3 points, or 0.1 percent, to 2,790 as of 12 p.m. Eastern time. The benchmark index is at its highest level since late January, when investors began worrying about a sharp pickup in inflation. Those concerns have since eased. The Dow Jones industrial average rose 16 points, or 0.1 percent, to 24,337. The Nasdaq composite gained 40 points, or 0.5 percent, to 7,743. The Russell 2000 index of smaller-company stocks was unchanged at 1,682. Both of those indexes are at record highs.
Most of the stocks listed on the New York Stock Exchange traded lower.
CABLE CONNECTION: Late Tuesday a judge approved AT&T's $85 billion purchase of Time Warner and rejected the government's argument that the deal would stifle competition and lead to higher cable bills. The purchase will give the wireless and cable giant control of CNN, HBO and the Warner Bros. movie studio. Time Warner climbed 3.2 percent to $99.32 while AT&T lost 4.3 percent to $32.88. The ruling sparked a rally in media companies. Netflix gained 3.3 percent to $375.89 even though a larger A&T might create tougher competition for it. Cable channel operator Discovery rose 4.1 percent to $25.02 and CBS gained 4 percent to $54.46. Dish Network picked up 2.7 percent to $33.27.
WHAT'S NEXT?: Investors are waiting for Comcast to officially announce an all-cash offer for Twenty-First Century Fox's entertainment businesses based on the ruling, and Fox surged 7.5 percent to $43.59 while Comcast lost 0.4 percent to $32.24. Comcast has said it's preparing an offer but was waiting for the outcome of the AT&T case. Fox had agreed to sell those businesses to Disney for $52.4 billion in stock, setting up the possibility that Disney will have to raise its offer. However Disney added 2.7 percent to $107.17 Wednesday. T-Mobile USA and Sprint also edged higher. T-Mobile plans to buy Sprint for $26.5 billion, but investors have been skeptical the government would allow the third- and fourth-largest wireless carriers to combine. T-Mobile added 1.5 percent to $58.95 and Sprint gained 1.8 percent to $5.41.
HEALTH CARE: Health insurer Aetna rose 3.7 percent to $187.43 and drugstore and pharmacy benefits management company CVS Health gained 2.5 percent to $67.99. CVS agreed to buy Aetna for $69 billion in December. Another pharmacy benefits manager, Express Scripts, jumped 4.6 percent to $82.84 as investors bet its sale to health insurer Cigna is more likely. Cigna fell 1.7 percent to $175.80. That $52 billion deal was announced in March.
CENTRAL BANKS: Investors are almost certain the Federal Reserve will raise interest rates again Wednesday afternoon. The greater concern is what the Fed will do next. The Fed itself has projected three increases in rates this year, meaning one more increase in the months to come. But investors will be looking for hints that the Fed is thinking about raising rates two more times instead. Fed Chairman Jerome Powell will hold a news conference after the Fed releases its decision. That's the beginning of a busy week for central banks. On Thursday, the European Central Bank will meet and could outline an end to its stimulus program, while on Friday the Bank of Japan is due to give its latest policy update.
BLOCK GETS BLOCKED: H&R Block plunged 18.9 percent to $24 as CEO Jeffrey Jones said the tax preparer is "too reliant on price to grow revenues." H&R Block is forecasting smaller profit margins in the current fiscal year than it reported in the 12 months that just ended.
STRUCK DOWN: Medical device maker Boston Scientific dropped 5.2 percent to $3.208 and Stryker rose 2.7 percent to $167.01 after Stryker said it is not in talks with Boston Scientific about a possible acquisition. Boston Scientific jumped Tuesday after the Wall Street Journal reported that Stryker offered to buy it.
PRICES: The Labor Department said wholesale prices jumped in May, and they're up 3.1 percent over the last year. That could be a sign that the strong economy is beginning to rouse inflation. The increase in the department's producer price index was the largest in six years. The index measures inflation before it reaches consumers. Core prices, which exclude volatile energy and food prices, are up 2.4 percent over the last year.
BONDS: Bond prices edged higher. The yield on the 10-year Treasury note dipped to 2.95 percent from 2.96 percent.
ENERGY: Benchmark U.S. crude rose 0.3 percent to $66.57 a barrel in New York. Brent crude, used to price international oils, gained 0.7 percent to $76.40 per barrel in London.
CURRENCY: The dollar rose to 110.38 yen from 110.33 yen. The euro rose to $1.1783 from $1.1750.
OVERSEAS: Germany's DAX rose 0.4 percent. France's CAC 40 and the FTSE 100 in Britain were little changed. The Nikkei 225 in Japan rose 0.4 percent and South Korea's Kospi fell less than 0.1 percent. Hong Kong's Hang Seng dropped 1.2 percent.