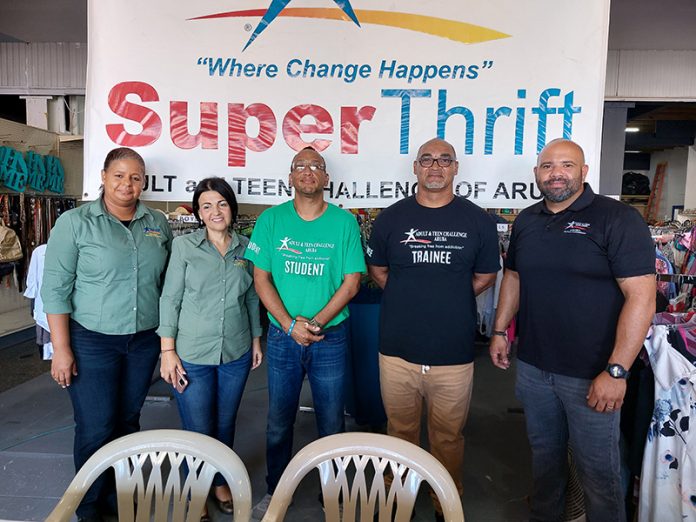 The problem of addiction is big in Aruba and continues growing through the years. Different organizations and foundations are dedicated to offering help and rehabilitation to people fighting addiction. Adult & Teen Challenge Aruba Foundation is part of this group offering help. President of the foundation, Ivone Simon Andrade explained the work done by the foundation.
Adult & Teen Challenge is a global program existing around the world for 62 years. Adult & Teen Challenge Aruba Foundation exists for 20 years on Aruba, and it is a vocational training center for people entering a drug rehabilitation program, so they can receive help and guidance to reintegrate back into society and become contributing members of society.
Simon Andrade explained that since five years ago the foundation began with the vision and mission of establishing rehabilitation and recovery centers for people fighting addiction problems, be it drugs or alcohol, or mental health problems like depression.
The rehabilitation and recovery program consists of twelve months, during which the person deciding to enter the program receives help and guidance through specific lessons to help them change their way of thinking, so that they can become contributing members to society and good people for their families.
"Our very important goal is family restoration. Most of the times, people battling addiction are already parents, mothers or fathers, and for us it is important as a foundation helping them to help them integrate back into their families", Simon Andrade indicated.
The foundation also offers a daily program, where the client spends the day at the program, receiving guidance and help to rehabilitate, and then they go back to their family.
The foundation has expansion projects, and one of them is the Super Thrift Store that recently opened. Aside from people making the decision to enter the program receiving lessons on changing their attitude, they also receive mentorship and guidance throughout the day.
Simon Andrade explained that the Super Thrift Store project has two functions. One of these is to teach the person to work again, and teach them norms and values in a practical day. The person goes and does his normal practice in the job area, while receiving guidance on what is the best way to follow life's rules and enter back into society.
"After completing the program when they go searching for a job, they already know norms and values, respect for authority, all this is part of the program", Simon Andrade added.
At the same time, this center is the way how the foundation keeps itself afloat financially. It is a store with second-hand clothes and items and everything sold is donated by the community; this way the community also contributes to help the foundation cover their monthly operational costs.
Simon Andrade commented that they have different projects. Right now, the foundation has a men center and a women center, but these have a very small capacity. They are counting on help from the community to receive the necessary funds to relocate these centers.
"There is great need in Aruba, and all existing centers are never enough because you need a bigger place. For us as well, our focus for 2023 and 2024 is to expand the centers both for men and women to receive as many students as possible for our program", she pointed out.
She said that to do this, they need more funds. Each project on its own costs about 450,000 florins, so it will cost a total of 900,000 florins to relocate and expand the men and women's centers. This to accommodate twelve persons in each center as well as operational costs. "In order for us to achieve this, we really need help from the community", she emphasized.
Adult & Teen Challenge Foundation is a non-profit. People wishing to help can do this in different ways: donating funds directly to the bank account of the foundation; donating articles of clothing, shoes, homeware, furniture, electronics, etc to the store, and the foundation sells these at a very affordable price; donations can be made to the store, but there is also a blue container on the Boulevard where people can also leave donations.
"The store would not be possible without help from the community, and it is a project with such a big impact. We are very thankful to the community of Aruba for believing in the project since the start", Simon Andrade said.
She added that currently in the expansion phase they need more help to continue providing help to each person that needs help and guidance for a positive transformation. Adult & Teen Challege can help them reintegrate back into their families and into society as people free of addiction and productive, adding great value to society.
"The Super Thrift Store project that now has relocated to Certified Mall is a form of circular economy, it is sustainable, and most importantly it helps change lives, thus its impact in the community is immense", she finalized.