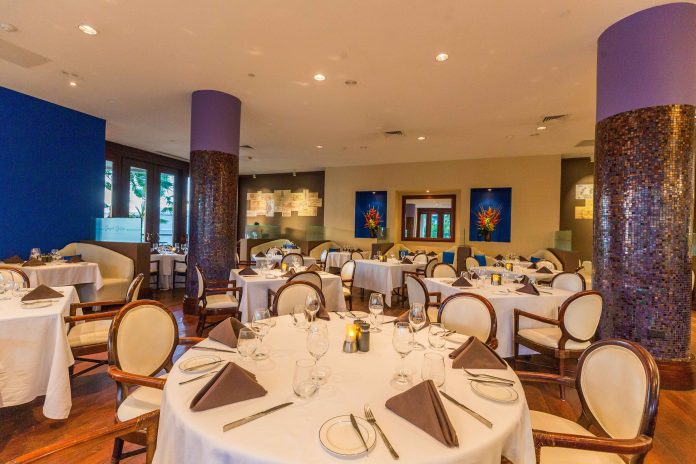 The unique and much-anticipated Wine & Prime dinner event will unfold on Saturday, November 28th starting at 6:30pm with a Welcome Reception at Mira Solo Lobby Bar, followed by a 5-course culinary experience at the Sunset Grille.
The highlight of the event, a 3-course blind meat tasting, will be guided by Elizabeth Wunderlich of US Meat Export Federation, discussing the science of meat marbling. Kiume Tjon-A-Tsien, of Divino Aruba, will comment on the art of wine pairing.
Patrons will be delighted with the main course, served immediately after their journey of discovery: Hickory smoked Picanha, Chimichurri, with herb infused watermelon, corn and cabbage slaws. The event will conclude with a rich dark chocolate soufflé served with vanilla ice cream for dessert.
According to Wunderlich, the very best beef available – the Certified Angus Beef ® brand, is so good that less than 8% of all beef makes the grade. Wunderlich who was asked by the brand to go to Aruba in order to host a sizzlin' Prime & Wine event reports the brand is committed to excellence and to delivering incredibly flavorful, tender and juicy beef cuts for use in licensed restaurants around the globe. As a matter of fact, she states, not all beef passes the 10 stringent quality specifications imposed by the brand, and while other labels may say Angus, that's where the similarities end. The difference is in the flavor. And that's where the Certified Angus Beef ® brand sets the bar to earn a premium mark.
Wunderlich, the Caribbean Consultant for both US Pork and US Beef Federations and local-based Divino Aruba joins to facilitate the pairings with three major wine brands Charles Smith Wines, Meiomi Coastal California Wines, and Robert Mondavi Winery.
The dinner is priced at $78 per person, excluding 18% service charge. There are only 40 seats available for this unique event. Tickets may be reserved at 526 6612 or HiltonConcierge@depalmtours.com.