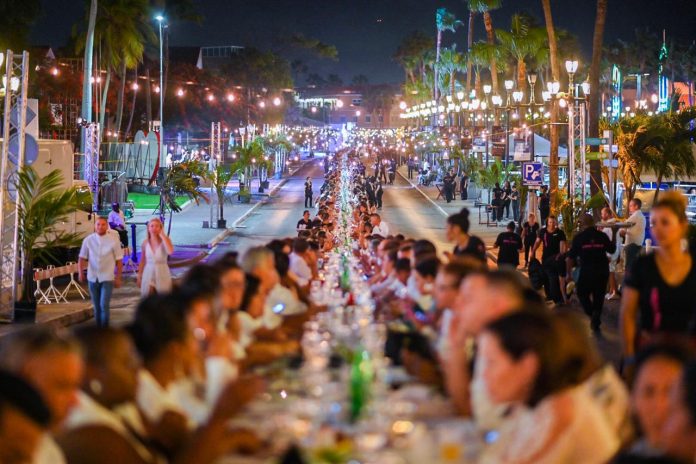 Wind Creek Hospitality together with Renaissance Aruba Resort & Casino exceeded all expectations with the third edition of 'Long Table', as the culinary event was completely sold out months before date. For just one night the team members of Renaissance Aruba served dinner at the longest table on the island. The table covered a large part of the L.G. Smith Boulevard accommodating 1,000 people. This year all proceeds of the event went to one charity: Pasadia Infantil Te Aworo
$30.000 to Pasadia Infantil Te Aworo
Pasadia Infantil Te Aworo is a daycare for children between the ages of 0-4 that was founded in 1962 in San Nicolaas under the name of Mgr. A. van der Veen Zeppenfeldt Foundation.
The capacity at the daycare is for 150 children, but due to its bad condition and urgent repair needs, they have currently only 39 children under their care. The plan is to get in full operation once the repairs are completed so that they can keep taking care and educating the children of Aruba, especially from San Nicolaas. The community contributed to this good cause by buying a ticket for 30 dollars. All 1,000 attendees enjoyed a three course dinner accompanied by two glasses of wine. The Renaissance Aruba culinary team spearheaded by Executive Chef Sebastian Cechet, once again did a fantastic job! At the end of the evening a donation for the amount of $30,000 was handed over by Mr. Paul Gielen, General Manager of Renaissance Aruba Resort & Casino and Mr. Glenbert Croes, Minister of Social Affairs and Labor to Mrs. Sheirla Pietersz- Cilie, Director of Pasadia Infantil Te Aworo.
The General Manager of Renaissance Aruba Resort & Casino, Mr. Paul Gielen, expressed his delight for being able to do this for the Aruban community. "This event fits perfectly within the philosophy of Renaissance Aruba Resort & Casino, which is now part of Wind Creek Hospitality; to give back to the community and contribute to the positive development of our people. I would like to thank all team members who have worked hard to make another edition of Long Table Aruba a success. I would also like to thank everyone who bought a ticket so that we could raise funds for Te Aworo this year. We hope to be able to count on you again next year!"
Thank you!
Renaissance Aruba received the cooperation from the authorities to close L.G. Smith Boulevard and set up the elegant white table just in front of Marina Hotel. Around 10:30pm the boulevard was opened again to traffic.
The music was provided by Bambu Band and DJ Golden. Erin Croes, the director of Magic 96.5FM, was once again the MC for the night. An event such as 'Long Table' Aruba, would not have been possible without a few sponsors that gave their help and support to this beautiful project. Wind Creek Hospitality together with Renaissance Aruba Resort & Casino would like to thank its team members, Caribbean Overseas and Tropical Bottling Company. Also a big thank you to High Performance and Express Events & Party Rentals. Others that gave their support are Andmar, Aqua Panna & S. Pellegrino, ARTN Photography, Aruba Laundry, ASD Aruba Supplies & Distribution, Bite! Communications, EcoTech, Elite Productions, Fantastic Gardens, Flora Market, New York Laundry, Scaff-Pro, The Greatest Inter Employment Agency, Thunder N Lightning, Vanquez Corporation, Wolff Independents and Zen Designs. For pictures of this successful culinary event please visit www.facebook.com/LongTableAruba.