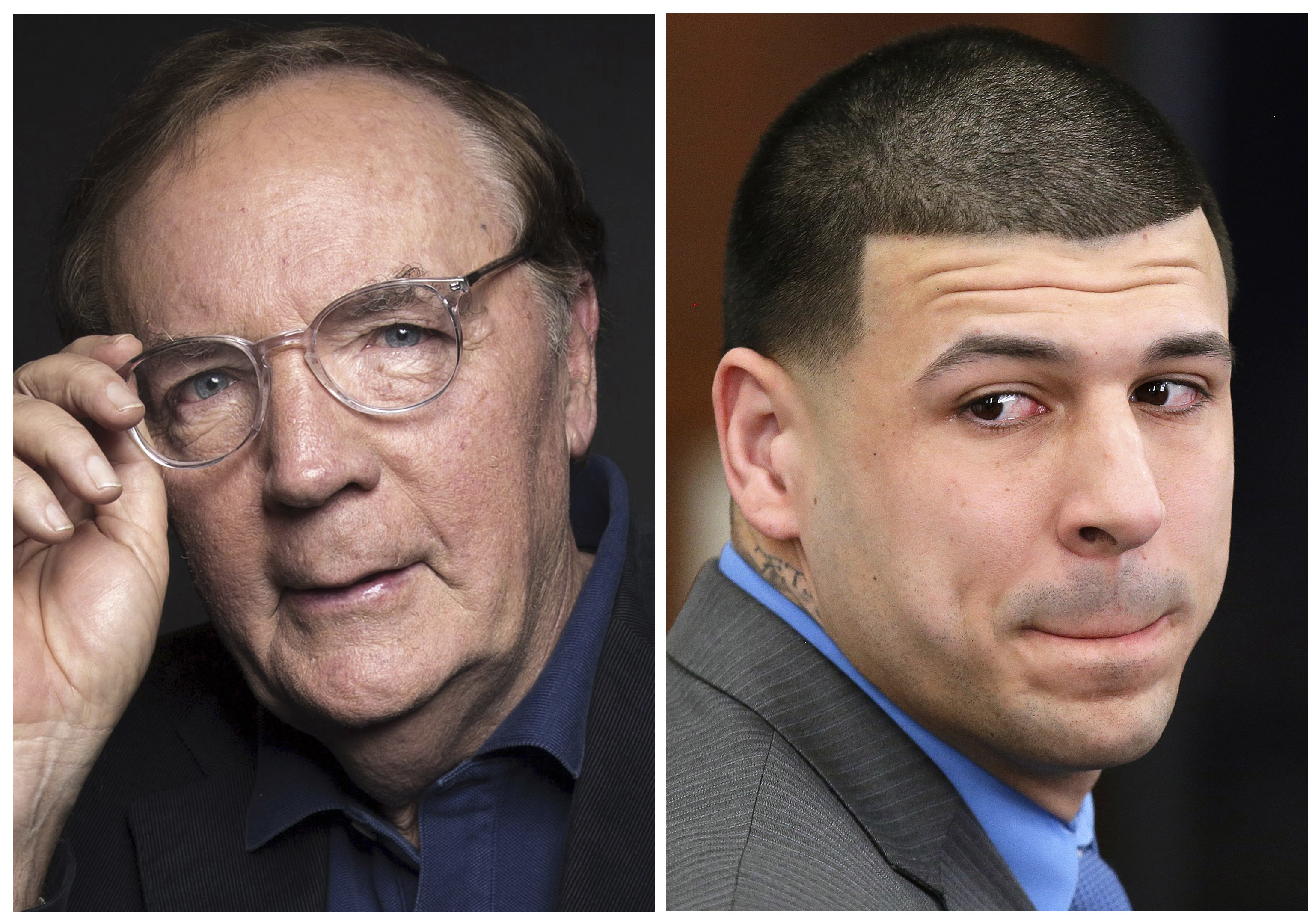 By WILLIAM J. KOLE
Associated Press
BOSTON (AP) — Eight months after ex-NFL star Aaron Hernandez hanged himself in prison, a new book by bestselling author James Patterson is reviving unanswered questions. Patterson spoke with The Associated Press on Friday about what he calls "the most fascinating, complicated and troubling crime story of our times."
Hernandez, a former standout tight end for the New England Patriots, was found hanging by a bedsheet in his cell on April 19, hours before his ex-teammates were due to visit the White House to celebrate their Super Bowl victory. The 27-year-old athlete had been serving life without parole for a 2013 murder. Just days earlier, he had been acquitted of a separate double murder.
After his death, Hernandez was diagnosed with chronic traumatic encephalopathy, a degenerative brain disease tied to head blows which can cause depression and violent mood swings.
Patterson's book on the case, "All-American Murder," is set to be released Monday by Little, Brown and Company, and CBS is airing a companion "48 Hours " special Saturday night.
AP: Most of your work tends to be fiction. What drew you to this real-crime story?
Patterson: I don't usually do nonfiction, but I was compelled to do this story. You can't take your eyes off this guy because of all his gifts: his good looks, the smile, the beautiful fiancee, the baby girl, the $40 million NFL contract. When I was in my teens, my family moved up near Boston, and I became a fan of the Patriots and the other Boston teams. I still am to some extent.
AP: Why do you think Hernandez killed himself if there was a chance — however small — of overturning his conviction and winning his freedom?
Patterson: Most people who suffer from brain damage do not become murderers. My take is if you take somebody with a psychopathic personality — somebody who enjoyed killing people — hit him in the head a few thousand times and add some PCP and weed, you have a nightmare. And there are a lot of suicides with CTE.
AP: What do you make of the rumors that Hernandez may have been gay or bisexual and had a prison lover?
Patterson: We never talked to anybody who said there was something to that. He was in his cell 22½ hours a day. He had virtually no contact with any prisoners. What could he do?
AP: Did Hernandez have some kind of jailhouse conversion? He wrote "John 3:16" in ink on his forehead and in blood on a cell wall.
Patterson: He was clinging to this notion, real or imagined, that if he believed in Jesus he could be saved. But he was over the top with everything. His thinking was scrambled big-time.
AP: Why does this case captivate people so powerfully?
Patterson: This is the most dramatic and surprising murder mystery in the last 25 years — including O.J. (Simpson). The story is just stunning, from his days as a well-behaved kid in high school to his time at the University of Florida to the NFL. It's the most amazing fall from grace imaginable