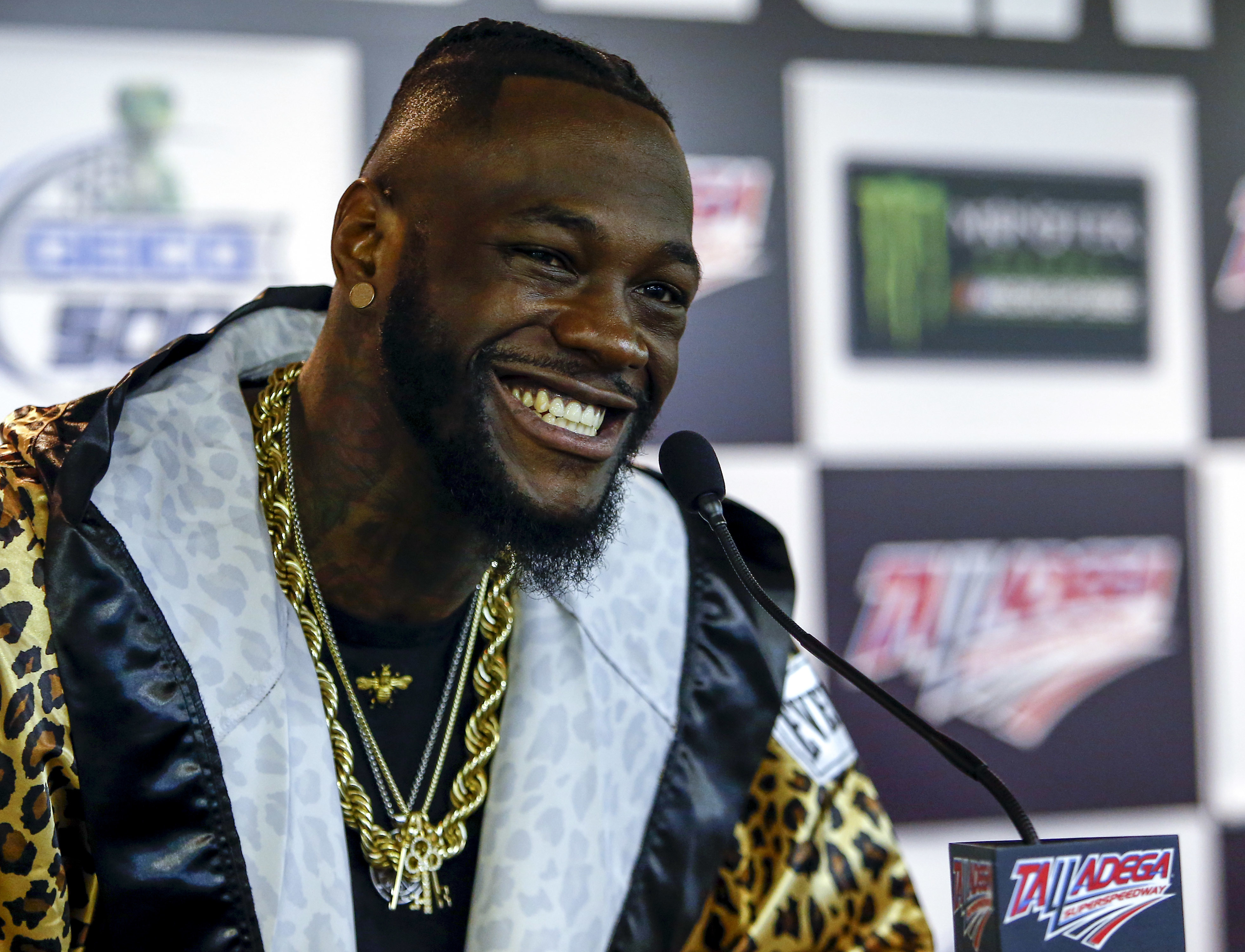 By TERRIN WAACK
Associated Press
NEW YORK (AP) — Heavyweight champion Deontay Wilder is on a business trip this weekend in Belfast. He'll be ringside as a TV commentator for Saturday's fight between Tyson Fury and Francesco Pianeta. But even Wilder has something riding on the outcome of this matchup. If Fury wins, Wilder plans to challenge him to a fight they've already discussed — right then and there.
"Why not?" Wilder told The Associated Press. "You got two heavyweights in the same room from the same division. You got the champion, then you got the other champion. It's only right." Wilder holds the WBC belt. Fury is the lineal champion, having beat Wladimir Klitschko in 2015. The lineal champion is a title given to the fighter who defeats the last fighter to hold all the boxing belts in a weight class. And Wilder wants that moniker."This fight is real," Wilder said. "The fight is on." As long as Fury wins.
Showtime Sports president Stephen Espinoza said the deal between Wilder and Fury is virtually done. The only details that need to be ironed out are the specific date and location. Wilder said Las Vegas. Espinoza said that's the natural option, but New York is another strong contender. Nov. 17 is a possible date, according to Showtime. Both parties agreed that Showtime, which has shown 10 of Wilder's fights, will get the Wilder-Fury bout — available on pay-per-view. "Wilder vs. Fury is a really intriguing fight both because of the styles in the ring and the personalities outside the ring," Espinoza said.
"Deontay and Tyson are two of the most likable and most entertaining characters in boxing. . But all the entertainment aside, it is a high-level heavyweight fight between two of the top guys in the division and two huge athletes at 6-6 and 6-7, the two tallest and biggest guys in the sport today." Both are undefeated, too. Wilder is 40-0 with 39 knockouts. Fury is 26-0 with 19 KOs. Saturday will mark Fury's second fight since he beat Klitschko. He was out of the ring for more than two years due to mental health and drug problems before making his comeback in June.
Fury was stripped of the IBF belt soon after beating Klitschko for not fighting a mandatory challenger. He relinquished his WBO and WBA titles on the day his license was suspended in 2016. Wilder last fought in March. "When I look at that fight between me and Fury, I just see two awkward fighters up in there," Wilder said. "One trying to outsmart the other. It's definitely going to be the battle of the wizards. Who's going to be smarter? Who's going to be faster? Who's going to be able to have a quick reaction?
"Where I'm sitting, and with the knowledge I know and have in this sport, I know Deontay Wilder is going to be a bit of all of the above," he added. The last fight Wilder tried to set up fell through. WBA, WBO and IBF champ Anthony Joshua (21-0, 20 KOs) and Wilder failed to come to an agreement after months of discussion. Instead, Joshua will fight Alexander Povetkin (34-1, 24 KOs) on Sept. 22 at Wembley Stadium in London.
Wilder won't completely write off a fight between him and Joshua, but he's happy to be moving on. "I cannot wait," Wilder said. "This is for all the marbles right here. This is for everything. We're finally going to see who is the man. Because Fury beat the man that beat the man. And when I beat the man that beat the man that beat the man, that'll make me the man."