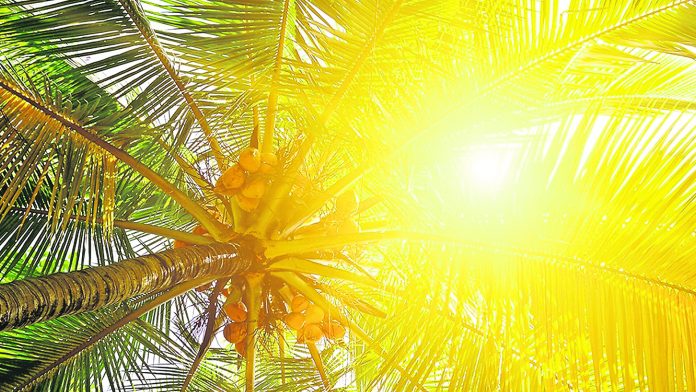 The Foundation for Catholic Schools in Aruba, SKOA, showed worry for the extreme heat recently, by implementing a variety of measures: no gym lessons outdoors, allowing all students to drink enough liquid, and even reducing the duration of the school day.
The 46 schools under the foundation receive a letter to implement these and other measures, director Anuesca Baly told news site Caribisch Netwerk.
The cold wind that normally blows from the sea is not coming these days. Residents in the area near the dump at Parkietenbos have also been complaining that the bad smells stays in the area. Some of these residents flee their homes because they cannot tolerate the situation, according to an article by journalist Sharina Henriquez on Caribisch Netwerk. Even neighborhoods that normally don't suffer from this problem are seeing residents complaining that they can smell Parkietenbos.
Meanwhile, Jonathan van der Linden, Maintenance Specialist at electricity company NV Elmar, explained to our reporter that the company is dealing with interruptions in their grid, and in this, the recent heat plays a big role.
Last week, use of electricity on the island was higher than ever before. The average peak electricity-generating company WEB is 135 megawatt, but last week it was 150 megawatt. "This is indeed because of an increase in energy consumption because of the heat", spokesperson Asja Dongen commented. "Many people are saying that this will be good for us because it will generate more income, but this is not the case."
It costs more for the company to let the motors produce more energy, which means additional investment and more fuel, which is not a sustainable solution. "For this reason, always, even during hot days, be mindful of energy consumption", Dongen highlighted.
It was also noted that these days, around 9pm, the peak is high because everyone goes home and turn on their air conditioning. There are also more electric vehicles, thus the demand is high. During the last week, Elmar experienced a never-before seen peak. According to Van Der Linden, their capacity is 256 megawatt which means there is enough capacity – but here and there, interruptions can occur. These are things that can happen anywhere on the island, thus do not affect one area more than the other.
But with temperatures feeling like 36 to 40 degrees Celsius at noon, it's almost impossible to find refuge anywhere other than indoors with air conditioning. Air conditioning is also turned on during the whole night in most Aruban bedrooms – even when the sun goes down around 7:30pm, the temperature remains at around 30 degrees Celsius.
Criticism on weather department
"For three years that I've been working as director, each year a letter like that is sent out, with precautionary measures. Particularly for the five schools that do not have air conditioning", Baly told Caribisch Netwerk. "September is always this hot."
But this hot? Baly didn't see any warnings regarding the heat, which for her was a reason to pick up the phone and call the weather department. "I follow the weather department of Curaçao, which previously had already warned about the extreme heat. I wanted to know how this was going to be for Aruba."
Aruban media was already on it. "Incomprehensible that the weather warnings between these weather institutes are different while the islands are so close to each other", according to a local news site. This generated negative reactions regarding the skills of meteorologist David Barkmeyer, director of Aruba's weather department. Noticeable were the attacks and comments regarding his Curaçaoan background. This happened also last June, when the forecast for storm Bonnie was still acceptable.
"Everything is on our website, thus that's where people need to go", Barkmeyer said. "This is very normal. The hottest time of the year, and it can last until the beginning of October."
But why are people widely complaining right now? He doesn't have an explanation. "People are also calling us a lot. It's very hot, indeed, we did warn about this. But it's not abnormal."
If the extreme heat the last few days is because of climate change, this cannot be said directly. "No, not really, because the climate has been changing for 50 years already." Barkmeyer explained that these days it feels so hot because of the strength of the sun's rays: 12 on the UV index. This is so high, that the advice for this is to remain indoors.
Something that is also common during this time is the lack of wind, because weather disturbances in the area suck the wind away. Last week, hurricane Earl was to blame.
The cold wind that comes from the sea, which makes our desert island bearable, now feels more like a hairdryer. "The wind is hot because it's coming from the southwest, from the South American continent." Barkmeyer explains what a lot of residents do now know: despite the fact that the ABC islands are surrounded by the sea, the weather is determined by the mainland. "If we were two to three degrees more north west, it would be fresher. Then we would have a truly sea weather."