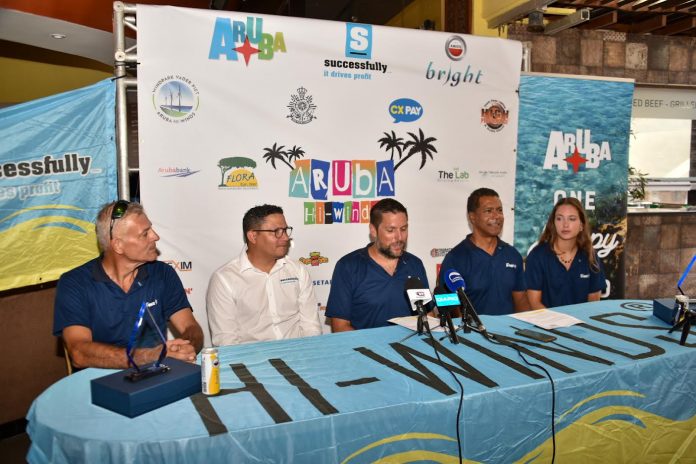 The anticipation is high for the 35th edition of the Aruba Hi-Winds which will take place from May 17th – May 22nd at The Fisherman's Huts. The Aruba Hi-Winds is the longest running event in the Caribbean, with an organization that provides a solid platform for local and international athletes to compete, learn, and connect.
Throughout the years, the Aruba Hi-Winds has grown from a small windsurfing competition into a full blown event with a festive Caribbean environment that celebrates sports, music, food, and culture. The organization is grateful for the support of their partners Successfully Caribbean, Amstel Bright, Aruba Tourism Authority, Vader Piet Wind Parks and CXPay.
Mission
Aruba Hi-Winds exists to promote Aruba as a world-class watersports destination, while providing a platform for local and international athletes to compete, learn, and connect. The five-day event serves windsurfers, kitesurfers, wing foilers, sailors, mountain bikers, and sports enthusiasts of all ages, while supporting local foundations that work for the youth of Aruba. The organization strives to adapt and improve the event to meet the evolving needs of its participants and sponsors. All energy and attention is focused on making Aruba Hi-Winds a premier global sports event that benefits the community and inspires the world.
Registration
Athletes that wish to sign up for the Aruba Hi-Winds are encouraged to do so online. The organization has made it very easy to pre-register on arubahiwinds.com. The official registration will take place on Wednesday, May 17th from 2 to 5 PM, followed by a festive opening celebration at the Fisherman's Huts.
Categories & Prizes
Young and mature enthusiasts are welcome to participate in the adult and youth races, with special consideration for beginners and kids. Besides the popular windsurfing and kiteboarding races, this year the Aruba Hi-Winds presents the new Kite X (Kite Cross) category. The much-loved Sunfish sailing and the mountain bike categories are also part of the 35th edition of the Aruba Hi-Winds.
Live Stream
Races can be followed from the shoreline and on the screens available at The Fisherman's Huts to catch all of the happenings further out on the water, including the Big Air eliminations in the kitesurf category. Viewers from around the world are invited to follow and share the live stream on arubahiwinds.com from the very beginning until the closing ceremony.
Activities
Everybody is invited to enjoy the races and beach activities while cheering on their favorite local and international athletes, with a daily happy hour from 5 – 7 PM, a food court and live entertainment. The daily schedule and more information about the 35th edition of the Aruba Hi-Winds is available on arubahiwinds.com.