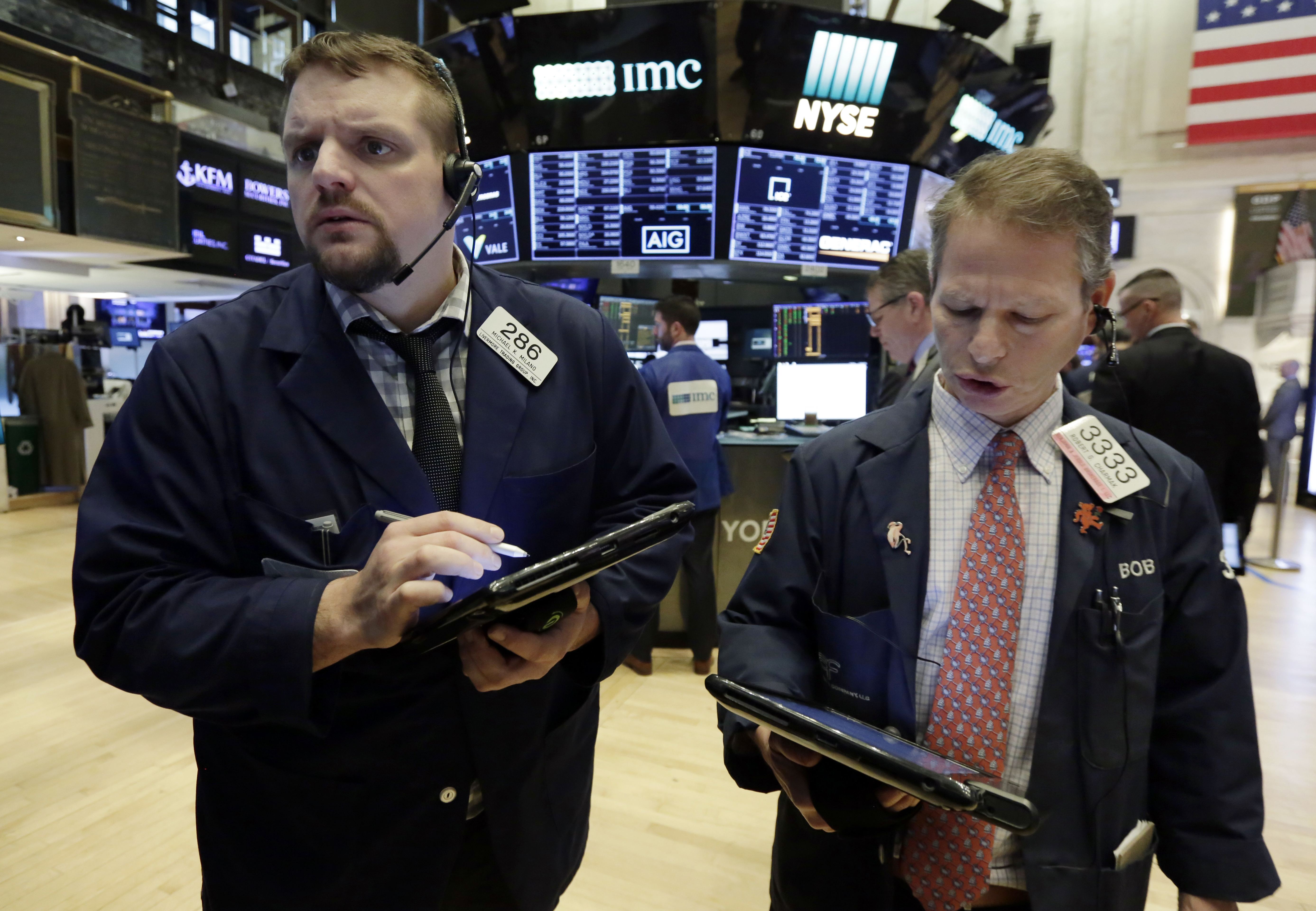 By ALEX VEIGA
AP Business Writer
The biggest drop in Walmart's stock in 30 years and losses in other sectors pulled U.S. indexes lower Tuesday, snapping a six-day winning streak. The losses deepened in the last hour of trading into a broad sell-off that erased early gains led by technology companies.
Walmart plunged 10 percent after reporting weak online sales and disappointing earnings. Grocery store operators, retailers, health care companies and industrial stocks accounted for much of the market's slide.
"Investors have been lulled into a false sense that stock markets are not volatile," said Doug Cote, chief market strategist for Voya Investment Management. "Last week was one of the best weeks in years, and as we go back to normal volatility, you're going to see what you would expect: normal ups and downs."
The Standard & Poor's 500 index fell 15.96 points, or 0.6 percent, to 2,716.26. The Dow Jones industrial average slid 254.63 points, or 1 percent, to 24,964.75. The Nasdaq lost 5.16 points, or 0.1 percent, to 7,234.31. The Russell 2000 index of smaller-company stocks gave up 13.56 points, or 0.9 percent, to 1,529.99.
The S&P 500, a benchmark for many index funds, capped its strongest week in five years on Friday, recovering more than half of the losses it suffered in a plunge at the beginning of this month. Stocks began giving back some of those gains early Tuesday as trading reopened after a long holiday weekend and investors began sizing up company earnings while keeping an eye on the bond market.
The yield on the 10-year Treasury, which is used as a benchmark for mortgages and other loans, has been rising in recent months from a low of 2.04 percent in September. Higher bond yields indicate investors expect more risk of inflation, and they also can threaten stock prices by making bonds more appealing versus stocks.
"Some of the broader concerns on investors' minds right now are looking across to the bond market and seeing the 10-year Treasury starting to approach that 3 percent level," said Bill Northey, vice president at U.S. Bank Wealth Management.
Bond prices, which had been declining early Tuesday, ended up little changed. The yield on the 10-year Treasury held at 2.88.
Walmart posted the biggest loss in the Dow and S&P 500. The tumble represents the stock's worst single-day drop since January 1988. Investors were disappointed with the retail giant's fourth-quarter results, which missed Wall Street's expectations as the company wrestled with slower e-commerce sales during the busiest time of the year.
The stock shed $10.67, or 10.2 percent, to $94.11.
Several big retailers also fell, including Target, which slid $2.22, or 3 percent, to $72.86. Ross Stores dropped $2.19, or 2.7 percent, to $77.98.
Gap declined 5 percent after the clothing chain said the head of the Gap brand will leave the company. Jeff Kirwan, who has been with the company since 2004, had led the namesake brand since the end of 2014. The Gap said Kirwan had failed to achieve "the operational excellence and accelerated profit growth" that the company expected for the Gap brand. The stock lost $1.66 to $31.61.
Genuine Parts gave up 5.2 percent after the auto and industrial parts company gave a disappointing profit forecast for 2018. The stock fell $5.16 to $94.67.
Company deals offset some of the market slide.
NXP Semiconductor jumped 6 percent after Qualcomm raised its offer for the company to $127.50 a share, or $43.22 billion, from $110 a share. The move comes as Broadcom is trying to buy Qualcomm. Shares in NXP added $7.06 to $125.56. Qualcomm lost 86 cents, or 1.3 percent, to $63.99.
Traders also welcomed news that grocery store operator Albertsons agreed to buy more than 2,500 Rite Aid stores. Albertsons owns brands including Safeway. The deal will double the amount of drugstores it owns.
Last year, Rite Aid had agreed to sell almost 2,000 locations to Walgreens after a larger deal fell apart. Rite Aid's stock, which has shed more than half its value over the past year, rose 7 cents, or 3.3 percent, to $2.20.
Benchmark U.S. crude rose 22 cents to settle at $61.90 per barrel in New York. Brent crude, used to price international oils, shed 42 cents to close at $65.25 a barrel.
In other energy futures trading, heating oil added 2 cents to $1.93 a gallon. Wholesale gasoline was little changed at $1.75 a gallon. Natural gas rose 6 cents to $2.62 per 1,000 cubic feet.
Gold fell $25, or 1.8 percent, to $1,331.20 an ounce. Silver dropped 27 cents to $16.44 an ounce. Copper slid 6 cents to $3.19 a pound.
The dollar rose to 107.30 yen from 106.55 yen on Friday. The euro weakened to $1.2336 from $1.2408.
Major indexes in Europe ended mostly higher. Germany's DAX rose 0.8 percent, while France's CAC 40 gained 0.6 percent. Britain's FTSE 100 was flat.
Earlier in Asia, Japan's benchmark Nikkei 225 lost 1 percent, while Australia's S&P/ASX 200 inched lower. South Korea's Kospi lost 1.1 percent. Hong Kong's Hang Seng fell 0.8 percent. Stocks were mixed in Southeast Asia, while markets in mainland China were still closed for lunar new year holidays.