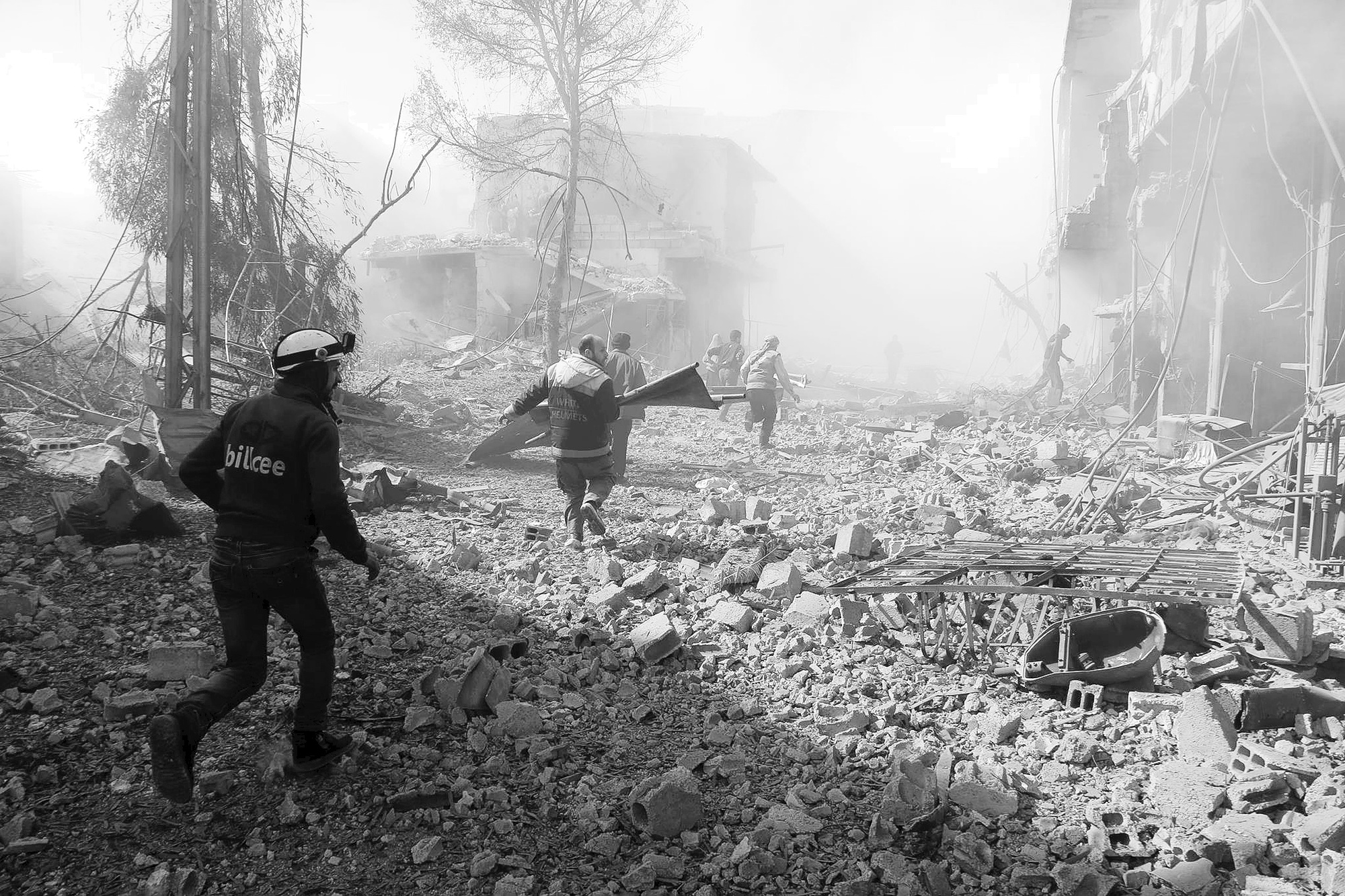 By PHILIP ISSA
BASSEM MROUE
Associated Press
BEIRUT (AP) — Government forces bombed the northeastern suburbs of the Syrian capital for a second straight day on Tuesday, killing more than 100 people and raising the specter of a full-scale offensive that could spell catastrophe for the nearly 400,000 residents trapped under siege.
Rescuers raced to reach survivors in the devastated Damascus suburbs known as eastern Ghouta as warplanes and helicopter gunships circled overhead, bombing hospitals, apartment blocks, markets and other civilian targets. The suburbs are the last major stronghold for rebels in the capital region.
At least 250 civilians were killed during the 48 hours of unrelenting onslaught that began Monday, including 58 children, according to the Syrian Observatory for Human Rights monitoring group. Another 1,000 people were wounded, it said.
"We no longer have the words to describe children's suffering and our outrage," the U.N. children's agency said in a terse statement about the carnage.
Russian Foreign Minister Sergey Lavrov appeared to endorse the unrestrained assault, which he said was backed by the Russian air force. "In keeping with the existing agreements, the fight against terrorism cannot be restricted by anything," he said.
Russia has been an unwavering ally of Syrian President Bashar Assad's forces and was instrumental to the all-out assault in late 2016 that ejected rebels from their enclave in eastern Aleppo, Syria's largest city before the war — an outcome that Lavrov said could serve as a model for eastern Ghouta.
Pro-government forces have been amassing since the weekend on the perimeter of the rebel-held region, a collection of towns and farmland that once provided grain and fruit to the capital before nearly five years of warfare turned it into a landscape of havoc and despair.
The towns of eastern Ghouta were among the first to organize into self-governing collectives and shake off government rule after popular demonstrations against Assad swept through the country in 2011, eventually leading to civil war. They are also among the last to resist Assad's determined campaign to bring every last rebellious corner of the country to heel. Assad and his allies maintain they are fighting a war on terrorism.
Monther Fares, spokesman for the Ahrar al-Sham rebel faction operating in eastern Ghouta, said densely populated residential areas were bearing the brunt of the attacks, a hallmark tactic of the government and its allies to devastate civilian areas and infrastructure before launching a final ground assault.
The battle for rebel-held east Aleppo culminated in the evacuation of tens of thousands of civilians from their homes, with many unable to return. A subsequent U.N. investigation charged that the campaign amounted to forced displacement of a population and rose to the level of a war crime.
That outcome could still be a while coming in eastern Ghouta, which is considerably larger than east Aleppo.
It is also divided between two rebel factions that deeply distrust each other, as well as a small presence of al-Qaida-linked fighters and a handful of other militias that could lead to the fragmentation of the
enclave, according to Aron Lund, a fellow at the New York-based Century Foundation. That, at least, could spare civilians some of the devastation of an all-out ground assault.
"It's perhaps more likely that government offensives develop into a patchwork of partial surrenders, cease-fires, interim deals and carve-ups that won't end the conflict but change the way the enclave looks and functions … on the road to final defeat," Lund said.
At least 10 hospitals in eastern Ghouta were damaged by airstrikes or shelling since Sunday night, according to Ahmad al-Dbis, the security manager for the Union of Medical Care and Relief Organizations, which runs hospitals and clinics in Syria. Ten medical staff and rescue workers were among the dead.
The International Committee of the Red Cross said in a statement that it was receiving "distressing reports" of dozens killed and wounded every day in eastern Ghouta, with "families trapped, with no safe place to hide from shelling."
Nasr al-Hariri, who heads the committee representing the Syrian opposition at the U.N., said the opposition was ready to facilitate the withdrawal of al-Qaida-linked fighters from eastern Ghouta to halt the assault.
But a spokesman for Failaq al-Rahman, one of the largest militant groups in eastern Ghouta, charged that Russia had obstructed an initiative to eject the al-Qaida fighters in November, to keep a pretext for an assault.
"Russia was going along to buy time and give Assad an opportunity to pursue the military solution," said spokesman Wael Olwan, who confirmed intensive contacts with the Russians in November.
Russia was supposed to guarantee security and aid access to eastern Ghouta as part of an agreement it reached with the rebels in August. But the Syrian government blocked all but a handful of aid convoys, plunging the region into a spiraling humanitarian crisis. Child malnutrition rates are in the double digits, according to the United Nations, and patients are dying of treatable illnesses and wounds while waiting for medical evacuations.
As the death toll climbed in eastern Ghouta, the rebels retaliated on Tuesday by hitting some Damascus neighborhoods with mortar shells, killing eight people, including three children, and wounding 15 others, according to the state news agency SANA.
"It's a bloody day," said Abdelrahman Shahin, a 31-year-old Damascus resident who was walking on the street when a shell landed on a nearby taxi, killing the driver and a passenger.
"They both died," he said, visibly shaken. "The driver was out for his livelihood. His family will be waiting for him."
Syrian state TV later reported live from the streets of Damascus to show what it called the people's "steadfastness" in the face of the shelling. The TV reporter said residents expressed hope that the Syrian army would retake eastern Ghouta.
In northern Syria, meanwhile, pro-government gunmen crossed into the Kurdish enclave of Afrin in an agreement with the main Kurdish militia there to defend against a Turkish offensive intended to uproot the main Kurdish militia from the area.
Turkish President Recep Tayyip Erdogan said the pro-government fighters had been warned to stay out of Afrin, where Syrian state television showed they were immediately targeted by Turkish shelling.
"Unfortunately, these kinds of terror organizations, as you know, make decisions and take wrongful steps. Of course it is impossible for us to allow this. They will pay a heavy price," Erdogan said.
Despite the warning, video taken inside Afrin late Tuesday showed the pro-government gunmen rallying with Kurdish militiamen underneath an arch welcoming visitors to the area, as they chanted Syrian unity slogans and waved the national flag and the flag of the Kurdish People's Protection Units, or YPG.
Ankara considers the YPG a "terrorist group" linked to the Kurdish insurgency within Turkey's borders. On Jan. 20, it launched a major air and ground offensive, pounding the Afrin enclave with airstrikes and artillery on a daily basis.
Turkey has threatened Syrian troops not to help YPG fighters, warning that it will fight its backers.