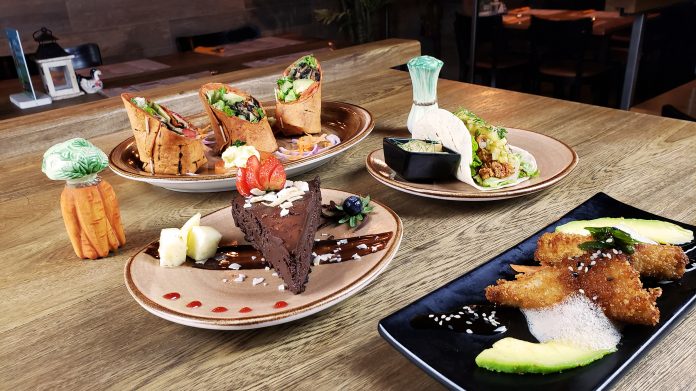 Vegan is healthy and sustainable, but most importantly: it's tasty! The restaurants affiliated with Yummy Aruba in Arawak Garden are hosting Aruba's first Vegan Weekend on December 6, 7 and 8. In addition, the restaurants will also serve specials on vegan wine and vegan cocktails.
Dragonfly's chef gives you vegan appetizer options of clear shiitake mushroom soup and a vegan roll in soy paper. For your main course it's a choice between veggie pad thai and a garden roll in rice paper. Of course, your dinner is topped with a dessert of wild berries, vanilla or chocolate ice cream.
Fishes & More has been serving a vegan menu for quite some time now and many vegans have already enjoyed the tasteful creations of chef Bruno. For Yummy's Vegan Weekend Fishes & More offers a 3-course choice menu with calamari vegani and coconut lemongrass noodle soup as appetizer options. For mains you may choose between portobello stuffed chickpea piccata and its famous tropical tofu tower. Leave some space for dessert: peanut butter brownie à la mode.
Vegan tapas are awesome! Salt & Pepper includes two tapas in its vegan menu during Vegan Weekend. The first appetizer tapa is a crispy teriyaki tofu with avocado, sesame seeds, scallions and Campari-orange foam. The second is the Taco Al Pastor which comes with sriracha mayo. The other appetizer choice is the vegan wrap, which comes with portobello mushrooms, fresh avocado, roasted bell pepper hummus, strawberries, romaine lettuce with a zesty ginger turmeric sauce. As main course you will be served chicken schnitzel, cilantro-spinach rice, sarza criolla, baked potato, served with ocopa sauce. A vegan black ganache is for dessert.
Ever tried a vegan steak? Well, it's on the menu for Vegan Weekend at Tango Argentine Grill. The menu shows eggplant as appetizer, a vegan filet mignon with mashed potatoes and veggies as main course and a fruits skewer for dessert.
At Sopranos, as well as all the Yummy Aruba restaurants in Arawak Garden you can enjoy a vegan cocktail that weekend: the Momo Special. This delicious cocktail with a handful of fresh mint makes it a perfect drink for Aruba's hot weather and is made of vodka, lemon juice, simple syrup, fresh mint, soda and topped with oregano essential oil. All venues will also serve vegan certified wines.
Be sure to make your reservations in advance to secure your table. The easiest way to do this, is by visiting yummyaruba.com, select your favorite restaurant and book your table. Yes, Let's Go Vegan!q