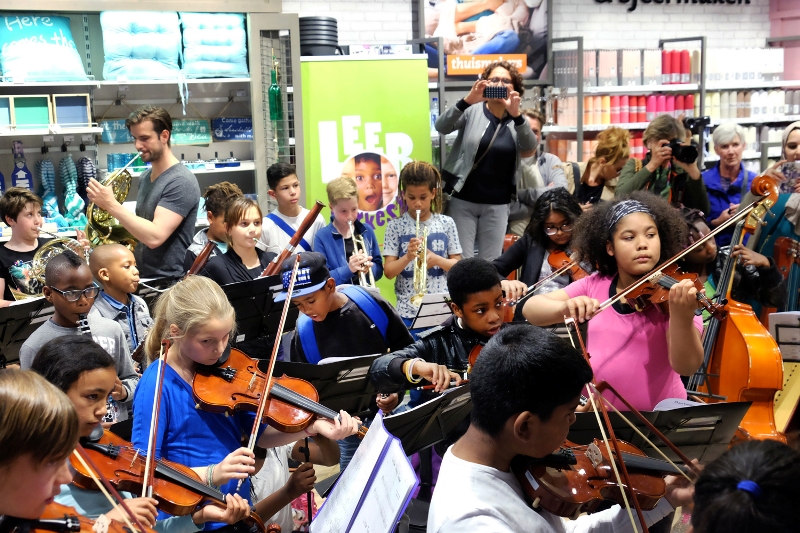 Maastricht – Last Monday April 29th , dr. Armando Rudy Lampe, Minister Education, Science and Sustainable Development was visited by Mr. Marco de Souza, who is the founder and current director of the "Leerorkest" (learning orchestra) project in Amsterdam. This project allows for approximately 3000 children in the Netherlands to receive music education at 18 different elementary schools. Each school has their own orchestra, which aim to provide safe learning environment for children. Our neighbor island Curaçao has already been executing this project and it has been a success thus far.
The dialogue has initiated in Aruba to possibly consider this project as a tool to provide more opportunities for our children. Music has a tremendous way of uniting people together, whether it be in sad or more joyous moments. The main question remains; how can Aruba use elements of the Creative Industries in providing positive socio-economic and cultural development? Especially for our children.
It has not been a secret that Aruba has been experiencing challenges regarding the social welfare of children within and outside of the school system. Generally high abuse rates, teen pregnancy, school drop outs, high youth unemployment, challenges with the Dutch educational system for local students have all been considered areas for discussion and evaluation. In my research, back in 2018, it was clear that the participants indicated that children in the Aruban school system are generally not equally given the opportunity of being exposed to cultural development, art, music, dance and other forms of creative outlets.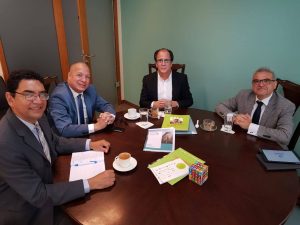 These social challenges are also experienced in the Dutch community and as a more culture-oriented society, the Netherlands, especially Amsterdam has been successful in using music education to prevent these social challenges to escalate. The Leerorkest is initially an initiative of the Minister of Justice of the Netherlands with the aim to reduce crime and the involvement of children and the youth in these activities. It is essentially a new method of music education where children get the opportunity during school hours to learn to play an instrument. The pilot for the very first Leerorkest for primary school children started in 2005 in Amsterdam Zuid Oost (De Bijlmer). Until recently, the city of Bijlmermeer has struggled to draw in many middle-class families. The neighborhood once had a relatively high crime rate, but this has decreased dramatically in recent years, but continuous to struggle with socio-economic difficulties, since migration has kept up in the Netherlands. The area has always been home to many different nationalities simultaneously. Throughout the years, claims of rising social segregation or ghettoization have been both denied and pre-empted by local government. However, in a more positive light, this project has proven that children who are part of the program are happier and this proves to be a positive achievement for Amsterdam in attempting in reducing criminality in impoverished neighborhoods. Thus, the Leerorkest program has proven to have tremendous educational, cultural, social and judicial preventive value for the Dutch community.
Marco de Souza, whose original idea it was and who is now the director, explains: "We think that the arts are for everyone. But music education is often organized in a way that is expensive and inaccessible. We want to make the barriers to music education much lower, so that children who are less privileged have the same chances to make music and to have a musical instrument which they can practice at home". The ideology behind this project is that children can grow through music, that all children have talent, that it provides equality, and that it serves as a connective tool between children and the society.
According to the Leerorkest, music has a lot to offer children. It is not just a lot of fun, it has been proven that it is good for their cognitive, social and emotional development. Producing music makes children smarter, happier and more social beings in a multi-cultural society. Music requires concentration, discipline, perseverance, teamwork, responsibility and are all essential abilities for the development of productive citizens for the future. Performing together as a class makes for unforgettable experiences for these children who otherwise would not get the opportunity. In the end, these children feel that they have accomplished something that they can be proud of and serves as a tremendous milestone in the life of a child.
For the Leerorkest, talent development means that a child gets the chance to learn to enjoy the arts and culture and to explore what he or she can produce for themselves. Talent development is also an innovation priority for the Aruban government and is part of the 5 innovation spaces indicated in the Isla Innovativo report in 2018. Science indicates that at primary school age children are the most receptive to musical development. Thus, at a young age the seed is sown for the future. In the Leerorkest all the hidden talents are tapped into, whether they are enthusiastic amateurs or music lovers enjoying music, or even future professional musicians.
According to the National Education Plan 2030 (2019) the most populated school level in the Aruban educational school system is the elementary school level. A total of 39.7% of the Aruban students are in the elementary school level for the academic year 2017/2018. Cumulatively, secondary education in Aruba (EPB, MAVO & HAVO/VWO) follows, which equals around 32% of the student population. So, if Aruba ventures in this opportunity, much of the students in Aruba could receive some sort of music education and personal development.
Another positive effect of the Leerorkest at school is that in the end it connects. Not just connecting students with each other at school but also on a much wider scale with the musical traditions (cultural heritage) of the country. For Aruba, this could be a tremendous initiative for cultural education with the aim of preserving Aruba's cultural heritage. Imagine national competitions or yearly performances by all schools in Aruba.
Imagine the community based support this could offer our children. The Leerorkest intends to give children the chance to be participatory players instead of being excluded of a personal enriching experience. Like the government has been preaching; sustainable development for all, leaving no one behind.
These children will eventually reap these rewards throughout their whole life. In addition to this, more children making music is good for the whole country. It could encourage more participation in song festivals such as; the Dande festival, Un canto pa nos Himno y Bandera festival, Caiso festival and the Vozilandia festival. Overall, I hope to see this program become a reality in Aruba. Our children deserve to grow equally in a society that provides them the capacity and support to be creative and to innovate for the future. With a good policy in place and with the allocated funding, Aruba could reap the fruits of a generation capable of thriving and not declining. q