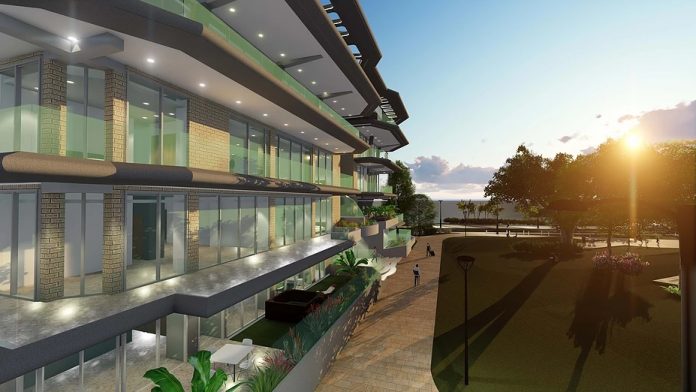 The Caribbean is a paradisiacal place where anyone would like to own their own condo to enjoy family, retirement, sun, sand and sea, and leisure. Making the perfect choice for that perfect place in the jungle of offerings can be a hassle. Well, in case you are looking for the best in all senses, Coral Shell is a must-see. We will tell you why.
The best comes from the heart and in the case of Coral Shell Condominiums it is the owners who built this place as their own home. Actually it is their own home as they will live in one of the exclusive condominiums themselves. Marisabel and Albert are a warm, genuine, hard-working and driven-by-perfectionism and passion kind of couple. They do not only care for the luxury private residence they are building but take the environment into consideration in their concept as they are the park-keepers of the adjacent Boy Ecury Park. Aruba Today was shown around by the owner who while explaining all the beauty that surrounds us mentions he is a medical specialist in origin. That explains his accuracy with every tiny detail and his decision for only the best quality products. There are 16 apartments in the range from one, two, three, four and five bedrooms.
The building.
The building is unique with 2 centimeter thick marble floors, exterior façade in Dominican Coral Stone, walls with concrete blocks – not dry wall, double glass windows with UV protection and sound control, a double system of air conditioning, sound control and waterproof mat under marble floor to isolate noise, fire and gas detectors in all apartments, laundry rooms and each kitchen has an InSinkErator.
The impeccable architecture is inspiring; appearing to have an art-museum vibe. Correct, says Albert, the architect is inspired by Spanish artist Gaudi among others. The walls seem to flow in a natural way and fit perfectly into the sun-lit place and surrounding colors of nature. The kitchens are all 100% Italian brand and even installed by Italians who call this place "Palazzo". "They said to have installed kitchens all over the world but never saw a condominium residence where all is matched so perfectly," the owners say. "I can say with pride that this is the most exclusive condominium in the Caribbean."
The location.
You have a priceless view offering 180 degrees that gives you a turquoise ocean, big blue sky, lush green gardens and the Linear Park urban walkway. Open air, sea, sand, city and more sea … all in one. Stroll in Boy Ecury Park, play with the children in Linear Park, take a dive in the ocean just in front of you and walk to one of the many restaurants that are close-by. Coral Shell has all the options in one. Most of the time you have to make a choice between a seaside location, urban environment or inland greens but here you have it all. Did we mention you have your private parking under the roof? Also there is round-the clock security guard and video surveillance. How about the Infinity pool with hydro jets and the outdoor terrace with bar, sun deck, fitness center and multipurpose court? Now we did. You must see it for yourself to experience the magic of Coral Shell, the owners will be honored to guide you around! q
Please contact to visit:
Phone: +297 587 9170 or +297 594 6745 or +58 4123277132
Email: Marisabeldaboin@hotmail.com or Deluxerealestatenv@gmail.com
L.G. Smith Boulevard w/ Beatrixstraat 20
Oranjestad
www.coralshellaruba.com