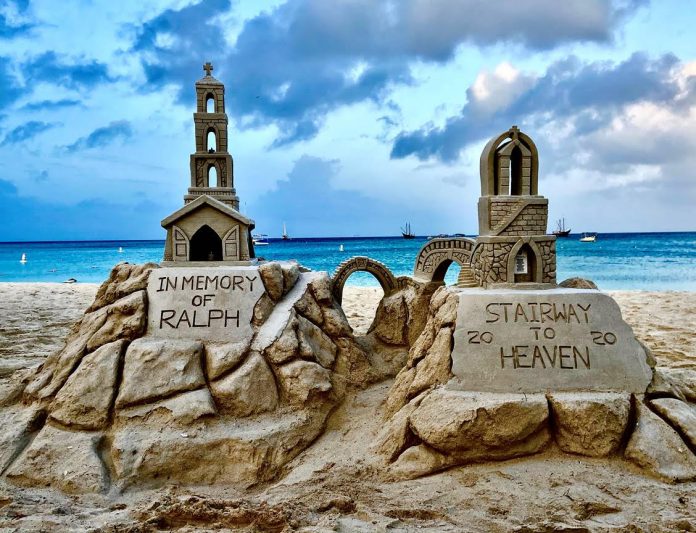 Marc Mangia, an award-winning Pro-AM Sand Sculptor born, raised, and lives in Columbus (Blacklick), Ohio has been sculpting sand for 15 years.  What started as a way to play with the kids and keep busy on vacations has become his loved hobby. Mangia competes in 3 to 4 competitions a year – Ft Myers Beach, FL; Port Huron, Michigan; Port Aransas, Texas; and Yarmouth, Maine.  He has placed 1st several times and also People's Choice.  Aside from competitions, Marc is a Semi-Retired Carpenter.
Mangia has been coming to Aruba for 20 years, and every year his castle creations have grown!  This year he spent over 90+ hours in a two week period doing a church and memorial for a dear friend.  He knew before coming this year that he wanted to do the Alta Vista Chapel that is here in Aruba.  Once he was there in Aruba and getting started, he learned that a good friend, Ralph Passante whom he had meet there in Aruba 15 years ago, had suddenly passed away.  Passante always loved watching Mangia work on his sandcastles and was always a protector of them. Passante is greatly missed this year on the beach and Mangia decided to do a memorial in honor of him.
Since owning their timeshare at the Marriott Vacation Club for 17 years, Mangia has made many wonderful friends.  Friends that have become his Aruba Family.  He looks forward to coming back every year, mid-January thru mid-February, and catching up with all them.  Aruba is Mangia's home away from home!  He says Aruba has the best sand for sculpting.
Rest in peace Ralph Passante.  Our thoughts and prayers go out to his family and friends.