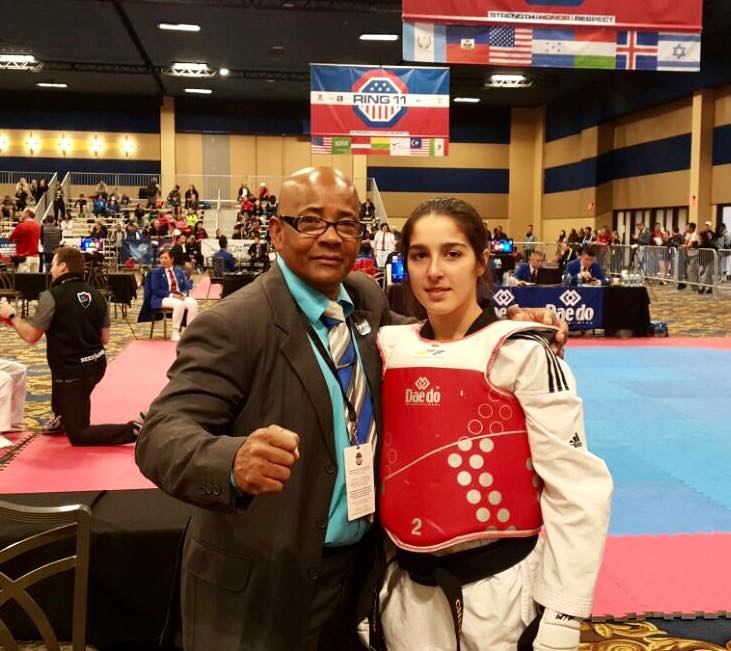 LAS VEGAS – Aruba might be a small island, but we do make some big impressions like recently at the G2 US Open Taekwondo Championship in Las Vegas. Chiara Petrocchi won bronze in the category 49 K Junior when she beat America's Valentina Guzman. The Taekwondo star won with a score of 25-4 under the belt. Her coach Teo Rodriguez stands by her all the time and made it possible –together with the athlete- for her to climb the stage and proudly accept her medal.
Together with the selection of the best Taekwondo champions of the United States Chiara was one of the last four athletes that battled to win a medal. She won her first three fights against two Americans and one Canadian. Eventually she lost against another strong competitor from the United States, Kiana Chai Chong , with a score of 15-2 but she still achieved the bronze medal. Last year during the same championship, Chiara already returned home with a silver medal, now again she showed her consistency. During her participation at the South American Youth Games in Santiago de Chile 2017, she came home with a golden medal.
Support Team
On Chiara's Facebook page it is mentioned that behind the success of the athlete there is a team of people, something that is important to value. Together with this team of people the young talent can continue doing what she loves and making the Aruban people proud. Congratulations from Aruba Today, Chiara!